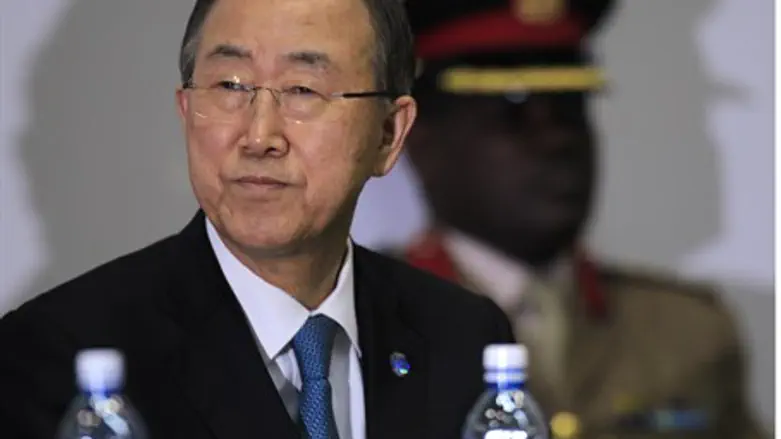 UN Secretary-General Ban Ki-moon
Reuters
United Nations (UN) Secretary-General Ban Ki-moon demanded Friday that an Israeli soldier captured in Gaza be released immediately and condemned "in the strongest terms" the reported ceasefire violation by Hamas, according to AFP.
Ban called on Israel and Hamas to show restraint and return to the 72-hour truce that collapsed after two soldiers were killed and a third reportedly captured near the southern city of Rafiah.
"The secretary-general demands the immediate and unconditional release of the captured soldier," his spokesman said in a statement.
Ban was "shocked and profoundly disappointed" by the renewed violence and warned that if reports of the attack on Israeli soldiers were confirmed "this would constitute a grave violation of the ceasefire," the statement added, according to AFP.
"Such moves call into question the credibility of Hamas's assurances to the United Nations," declared the UN chief.
The UN's top political affairs chief, meanwhile, poured cold water on prospects for peace talks brokered by Egypt after the collapse of the 72-hour truce that was to lay the groundwork for negotiations.
"The chance for success of these talks rested on quiet, rested on the 72-hour ceasefire," said Jeffrey Feltman, Under Secretary General for Political Affairs.
"Right now we have escalation. I myself have a hard time envisaging how these talks would work right now," he added.
"I hope that we can get back to that (a truce) but it is going to be extremely difficult given the situation we see in the Gaza Strip now especially with the capture of the Israeli soldier," said Feltman.
He stressed that the United Nations had received firm assurances from both sides "after long, hard, tough" negotiations that they would suspend fighting for 72 hours.
Also on Friday, U.S. President Barack Obama called on Hamas to unconditionally release the soldier, Second Lieutenant (Platoon Leader) Hadar Goldin.
"I think it's important to note that we have and I have unequivocally condemned Hamas and the Palestinian factions that were responsible for killing two Israeli soldiers and abducting a third minutes after a ceasefire was announced," he said.
"I want to make sure they are listening... That soldier needs to be unconditionally released as soon as possible," he added.
"I think it's going to be very hard to put a ceasefire back together again if Israelis and the international community can't feel confident that Hamas can follow through on a ceasefire commitment," Obama said.
(Arutz Sheva's North American desk is keeping you updated until the start of Shabbat in New York. The time posted automatically on all Arutz Sheva articles, however, is Israeli time.)