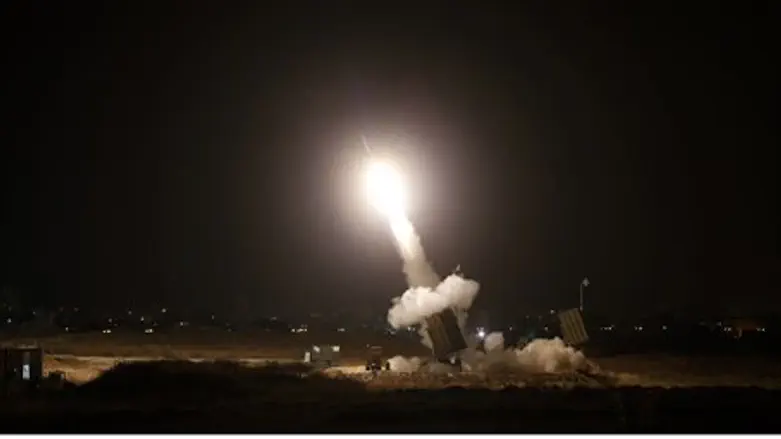 Iron Dome near southern Israeli city of Ashdo
Reuters
Moments after U.S. Secretary of State John Kerry announced that Israel and Hamas have agreed to a 72-hour ceasefire in Gaza, terrorists from the coastal enclave fired a salvo of rockets towards Israel's Shfela region.
Sirens were heard shortly after 1:00 a.m. Thursday night in Rehovot, Ness Ziona, Lod and other localities.
The Iron Dome anti-missile system intercepted at least one rocket near Ramla. Two additional rockets exploded in open areas. There were no reports of damage or physical injuries.
The rocket fire came right after Kerry said that the two sides would begin the truce at 8:00 a.m. local time on Friday morning (0500 GMT), and that Israelis and Palestinian Arabs would enter talks in Cairo.
"This ceasefire is critical to giving innocent civilians a much-needed reprieve from violence," Kerry said in a hastily arranged mid-morning statement on a visit to New Delhi.
"During this period, civilians in Gaza will receive urgently needed humanitarian relief, and the opportunity to carry out vital functions, including burying the dead, taking care of the injured, and restocking food supplies," he added.
The statement comes just hours after the State Department said that Kerry had "made some progress" in talks to try to reach a ceasefire in Gaza.
Kerry said earlier on Thursday that he remained hopeful for a ceasefire in the Gaza conflict but declined to predict when.