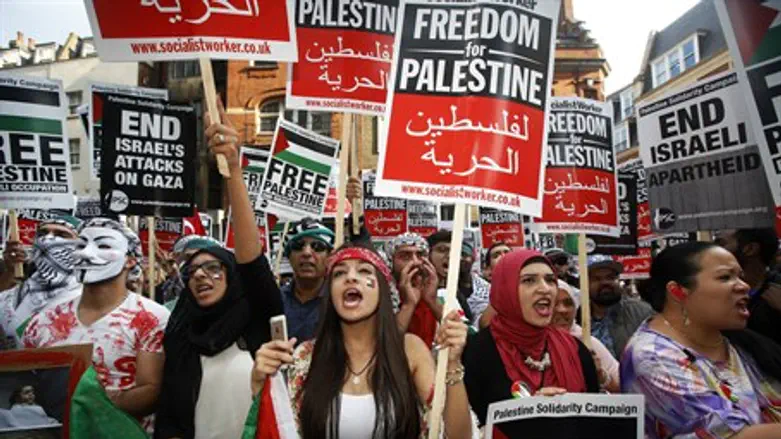 Anti-Israel demonstration outside Israeli emb
Reuters
Violent pro-Palestinian protestors have focused upon the Kedem cosmetics shop in Manchester to vent their rage at Israel, according to the Jewish Chronicle and Manchester Evening News - threatening the owners and Jews in general with death. 
Owners and staff at Kedem have received hundreds of phone calls - at one point one every five minutes, according to JC - from callers threatening to burn down the store and beat or kill its staff.
Facebook posts express sentiments like "I hope he burns in hell like the rest of the Jews," in a reference to the store's owners, or other threats to decimate the store. 
Hundreds of Palestinian supporters rallied outside the shop on Saturday, with one later arrested for making a Nazi salute at the pro-Israel counter-protest. 
Meanwhile, pro-Palestinians told the Manchester Evening News that their intentions are to start (or expand) a cultural phenomenon against Israel. 
"I'm part of a movement that's trying to show the British people and hopefully all communities that they need to get rid of the Israeli state," Pia Feigh, a member of Jews For Justice for Palestinians, stated. "They need to put pressure on their Government, their companies and companies like Kedem."
John Nicholson of Longsight and from Palestine Solidarity said: "we are here for the sixth day running to try and close down Kedem, a shop selling Israeli goods. We are here to say stop the bombing of Gaza. We are here to say if the Israelis want peace they should stop the bombs. They are bombing Palestine, women and children. And the US government and our government are doing nothing about it."
Several local Manchester politicians have condemned the violence, as both "unacceptable to target law-abiding Brits" and "not advancing the Palestinian cause one iota."
However, the sentiments have not stopped waves of anti-Semitism erupting throughout the UK since Operation Protective Edge began in Gaza 24 days ago, with 70 incidents alone reported in a two-week span between July 8 and July 24, according to the Community Security Trust (CST). 
Pro-Palestinian thugs demonstrating in London verbally and physically attacked Jews on multiple occasions, it said, along with mugging pro-Israeli protestors. 
Rabbis have been assaulted in Gateshead and London, according to the CST report, and several synagogues have been the target of anti-Semitic incidents. 
The CST said: "This level of violence from pro-Palestinian protesters is a worrying development. A pro-Israel organisation in London also received a telephoned bomb threat."
Mark Gardner, director of communications at the CST, said: "These marches are in danger of inciting violence and intimidation. We have made the police forces aware of our specific concerns relating to PSC demonstrations."
"We are sending out emails to schools, shuls and Jewish organizations reminding them of safety protocols. We are determined to do all we can to allow Jewish life to continue as normal."