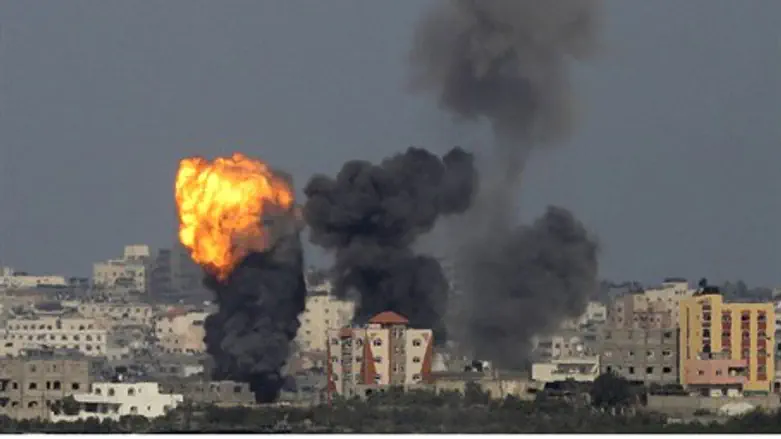 Israeli airstrike in Gaza
Reuters
In a rare audio message, the head of Hamas's "military wing" declared on Tuesday that the only way to reach a ceasefire in Gaza is for Israel to end its "siege" on the coastal territory.
The message by Mohammed Deif, head of the Izz ad-Din al-Qassam Brigades, was broadcast on Hamas's television network, and is the first official statement by Deif since Operation Pillar of Defense in 2012.
In the message, the arch-terrorist repeated Hamas's conditions for a ceasefire, saying, "The firing will stop only if the [Israeli] aggression ends only if and the blockade is lifted. The Zionist entity will not enjoy security if our people cannot live in freedom and dignity."
Deif referred to Israel's operation in Gaza as a "barbaric attack" which includes killing children.
"The enemy is destroying our homes. The steadfastness of the Palestinian people is what brought victory in battle," he stated.
Deif is considered the official who determines the agenda of the Izz ad-Din al-Qassam Brigades and is regarded as the "brain" behind Hamas.
He is likely hiding underground somewhere inside Gaza, fearing the IDF will try to eliminate him.
Reports last week said that an Israeli airstrike in Gaza had targeted Deif's home.