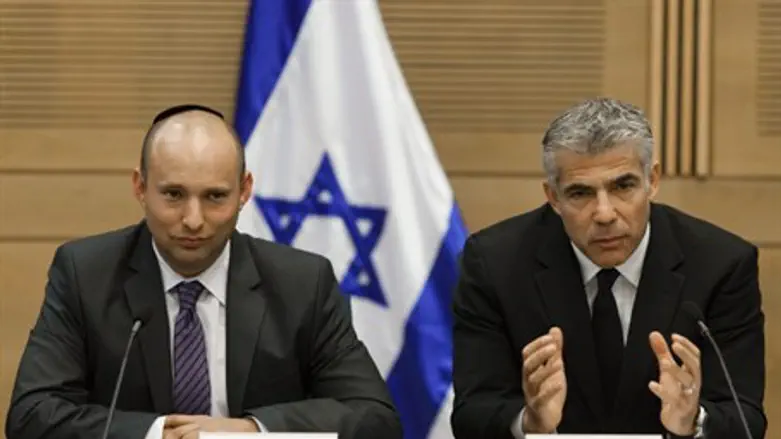 Naftali Bennett
Flash90
Economics Minister Naftali Bennett visited the southern city of Ashkelon on Tuesday afternoon and called for continued battle in the Gaza Strip, until the Hamas terrorist organization is "Brought to its knees."
"In battle, we do not stop; we continue more and more until the goal is achieved," Bennett said. "The Iron Dome works, the Home Front is strong, the soldiers and their officers have removed the rust. They are succeeding. We are ripping Hamas apart from many perspectives."
What's more, Bennett claimed, Hamas is isolated internationally.
"Egypt has humiliated Hamas and so the entire constellation is one that enables us, this time, to bring them to their knees, and we have to do just that."
MK Bennett asked the public to support Prime Minister Binyamin Netanyahu, "Who is running the operation with insight and with patience. I believe that the State of Israel will adopt a perspective of causing Hamas to concede defeat." Quoting from the Torah, Bennett added that "I bless the soldiers with the blessing that 'God will give strength unto His people; God will bless his people with peace.'" 
Earlier Tuesday Bennett linked Israel's war with Hamas and Islamic jihad to the wider struggle against radical Islam.
"Radical Islam seeks to erase the Jewish state from the face of the earth," he explained. "They do not seek a strip of land or a Palestinian state. Only our annihilation. [Ayatollah] Khamenei in Iran. Nasrallah in Lebanon. Haniyeh in Gaza. Meshaal in Qatar. All of the jihadist arms that are waiting to see how we respond."
His latest comments came as the acting Secretary General of the PLO (Palestinian Liberation Organization), and close confidant of PA leader Mahmoud Abbas, Yasser Abed Rabbo, announced on Tuesday afternoon that Hamas and Islamic Jihad will declare a unilateral ceasefire for at least 24 hours. Abed Rabbo placed responsibility for the "crimes" taking place in the Gaza Strip within the framework of Operation Protective Edge, on Israel.
During the past few hours, rockets have continued to be fired into Israel and IDF activity in the Gaza Strip has continued as well. IDF forces hung signs on Tuesday afternoon in southern Gaza, calling to the residents of Khan Yunis' western neighborhoods to evacuate immediately. The residents were also made aware of the evacuation notices via telephone calls.