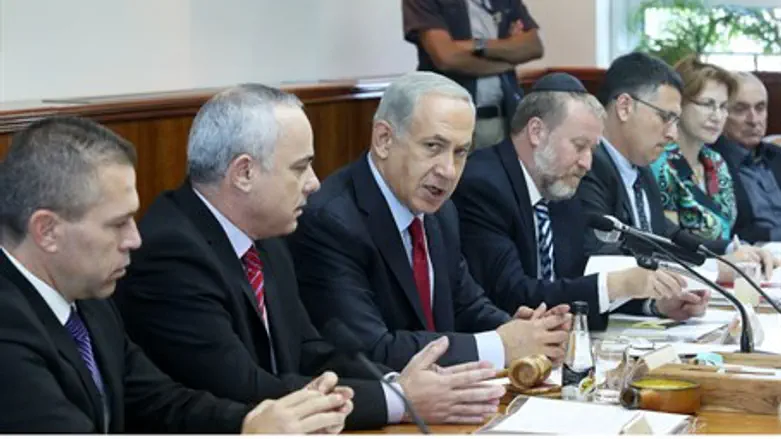 Israeli cabinet meeting (archive)
Flash 90
Hawkish ministers in Israel's cabinet spoke about Operation Protective Edge in Gaza Monday morning as if they know it is effectively over.
Minister of Agriculture and Rural Development, Yair Shamir (Yisrael Beytenu), told Channel 2 that the IDF had enough time to truly defeat Hamas, but did not do so. "Three weeks are a very long time for a sophisticated and strong army like the IDF," he opined. "It could have done in ten days what it did in 21 days, and then we would have had a few more days to hunt down the heads of Hamas.
"Militarily, I feel that there is a missed opportunity here," he explained. "We had a chance to be victorious and go all the way, to defeat the body that fought us." Shamir said that the fault was not the military's, which "did what it was told to do thoroughly and with professionalism," but in the instructions it was given.
"I think we should have given more aggressive and clearer objectives and shortened the time frame," he added. "We followed the other side, instead of being creative. We always responded to Hamas, never threw the enemy off balance with some surprising move."
Construction and Housing Minister Uri Ariel (Jewish Home) told IDF Radio that the operation should have been more determined. "It was clear that there would be diplomatic pressure at some point. We should have carried out the operation much faster, much harder and much more resolutely. The rocket threat has to be taken care of, and we are taking care of the tunnels, but this is not enough."
Deputy Transport Minister Tzipi Hotovely called on the Security-Diplomacy Cabinet to reject the US offer of a ceasefire. "The American offer serves only the interests of Hamas," she protested. "For the first time in years, a crushing majority in the Israeli public backs continuing the operation, and the government of Israel must change the rules of the game and defeat Hamas."