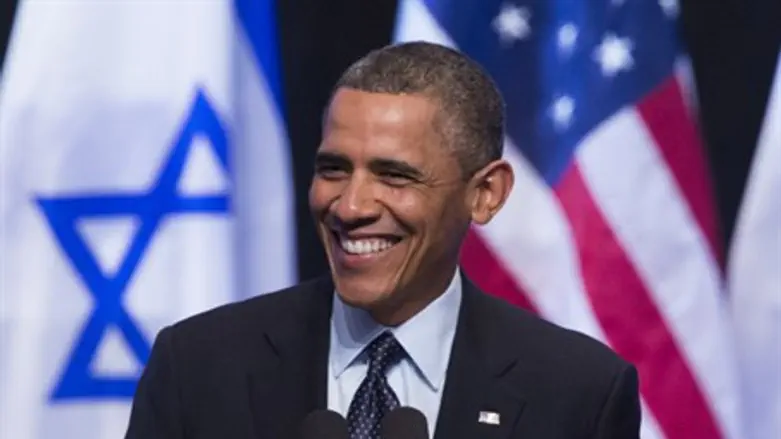 Barack Obama
Flash 90
US President Barack Obama exerted "heavy pressure" on Prime Minister Binyamin Netanyahu in a phone call Sunday to end Operation Protective Edge in Gaza immediately, according to Channel 2 television.
Obama reportedly agreed to the idea of an unconditional ceasefire, to be followed by discussion of Hamas's demands for easing of sanctions on Gaza. This is the formula that the Egyptians had offered, and which Israel favored, whereas Hamas wanted easing of sanctions to be agreed from the outset. However, Obama would not close the door on involvement by Qatar and Turkey in the negotiations, despite Israel's opposition.
Netanyahu's demand that Gaza be demilitarized was reportedly swept aside by Obama, who said that he saw such an arrangement as part of an overall peace deal to be reached between Israel and the Palestinians, and not as part of a ceasefire with Hamas.
According to an official US statement, Obama "made clear the strategic imperative of instituting an immediate, unconditional humanitarian ceasefire that ends hostilities now and leads to a permanent cessation of hostilities based on the November 2012 ceasefire agreement."
"The President reaffirmed the United States' support for Egypt's initiative, as well as regional and international coordination to end hostilities. The President underscored the enduring importance of ensuring Israel's security, protecting civilians, alleviating Gaza's humanitarian crisis, and enacting a sustainable ceasefire that both allows Palestinians in Gaza to lead normal lives and addresses Gaza's long-term development and economic needs, while strengthening the Palestinian Authority," said the White House statement. 
"The President stressed the U.S. view that, ultimately, any lasting solution to the Israeli-Palestinian conflict must ensure the disarmament of terrorist groups and the demilitarization of Gaza," it added.
The Israeli cabinet convened Monday morning to decide whether to accept a ceasefire or opt for deepening and widening the Gaza counterterror thrust.
Hamas fired a rocket at coastal Israeli city of Ashkelon Monday morning. After sirens sounded, the rocket struck an empty area and caused no casualties or damage.
The IDF fired back with artillery at Bait Lahiya in Gaza, the area from which the rocket was fired.
There was no rocket fire at Israel from Gaza overnight.
International pressure on Israel to stop its counterterror campaign in Gaza is peaking. The United Nations Security Council called Sunday evening for an immediate humanitarian ceasefire in Gaza to allow for urgent aid to reach civilians as the conflict between Israel and Hamas entered its third week.
The 15-member Council released a statement shortly after midnight Sunday calling for the truce during the Muslim Eid festival marking the end of Ramadan.
The Council expressed "strong support" for an "immediate and unconditional humanitarian ceasefire," and urged all sides to accept and fully implement the truce.
IDF forces continue to map out terror tunnels they found and destroy them. In addition, numerous boobytrapped houses were found, as were rocket launchers.