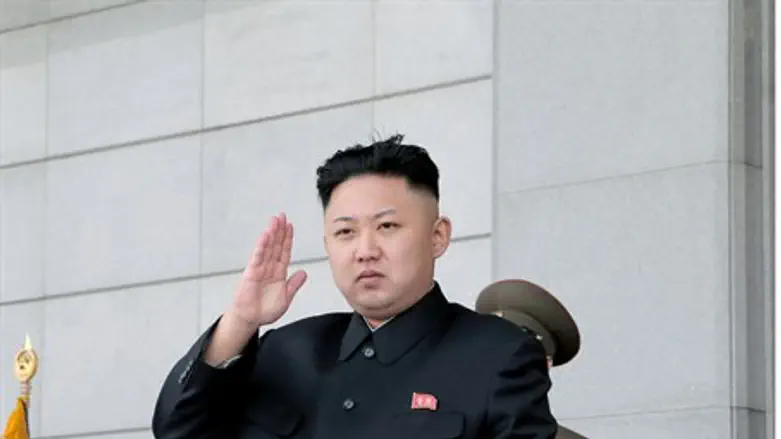 North Korean dictator Kim Jong-un
Reuters
Hamas have signed an arms deal with North Korea in order to replenish its deplete rocket arsenal, after thousands were either fired at Israeli civilians or destroyed in IDF strikes in recent weeks, according to The Telegraph.
In an exclusive report the British paper sited senior security sources who claimed that the deal, worth hundreds of thousands of dollars, had already been signed, having been made via Lebanese intermediaries. Hamas has reportedly made an initial down payment in cash to Pyongyang, and is hoping for an imminent delivery to Gaza.
North Korea's authoritarian regime has well-established ties with a variety of Islamist terrorist groups and militias in the Middle East, as it seeks alliances with anti-western forces in the region. It's relationship with Hamas in particular was exposed in 2009, when a massive shipment of arms - including heavy weaponry - was seized at Bangkok airport, after the plane transporting the deadly cargo was forced to land before reaching its destination in Iran. A subsequent investigation revealed that the weapons were to have been transported from Iran to Hezbollah in Lebanon and Hamas in Gaza.
This latest deal is said to include a delivery of new communications equipment to help Hamas terrorists to better coordinate in the face of the IDF's ground incursion into Gaza.
"Hamas is looking for ways to replenish its stocks of missiles because of the large numbers it has fired at Israel in recent weeks," one unnamed security official said. "North Korea is an obvious place to seek supplies because Pyongyang already has close ties with a number of militant Islamist groups in the Middle East."
According to Israeli intelligence sources, North Korea has been providing other forms of aid to Hamas as well.
North Korean experts are believed to have played a crucial role in helping Hamas build its vast network of "terror tunnels", designed to enable deadly infiltration attacks into Israel, based on the model of the authoritarian state's own complex tunnel network under the Demilitarized Zone with South Korea - believed to be the most sophisticated such network in the world.