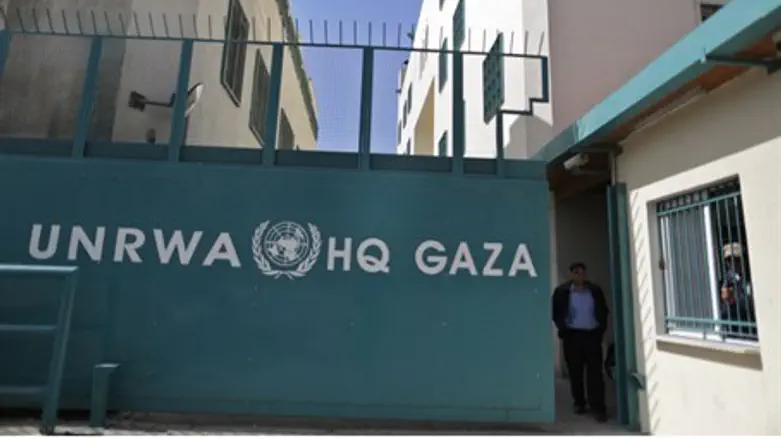 UNWRA HQ in Gaza
Flash 90
The IDF has opened an official investigation into claims by Gaza terror groups that the IDF shelled a UN school in Gaza on Thursday afternoon. According to the groups, at least 17 people, including children, were killed, and over 200 injured.
Israel has not yet commented on the report officially, but an official for UNWRA, the UN organization which ran the school, told Israel Radio that the school was one that was housing Gazans who had left their homes due to the Israeli shelling of Gaza neighborhoods. The official claimed that UNWRA had given the IDF the coordinates of the school, requesting that it be left alone.
That claim was echoed by UNRWA spokesman Chris Gunness, who claimed that there were "multiple dead and injured" at the school in Beit Hanun, which was being used as a shelter by hundreds of Palestinians fleeing a major Israeli operation in the area.
"Precise coordinates of the UNRWA shelter in Beit Hanun had been formally given to the Israeli army," Gunness said on his Twitter account.
Israeli sources said that it was very possible that the school was hit because Hamas terrorists were operating nearby. The sources said that the neighborhood where the school is located is one favored for firing rockets at Israel by Hamas terrorists, and that it contained a large number of rockets and other weapons.
In the last few minutes some of the circumstances around the alleged shelling of the school have become clearer, as IDF sources told Channel 2 of heavy exchanges of fire between soldiers and terrorist gunmen.
Sources told the channel that it was possible that a stray mortar shell fired by IDF troops may have hit the hospital, but that a rocket fired by terrorists also hit the building.
Earlier, Gunness himself tweeted that several terrorist rockets had misfired in the area and fallen in Beit Hanun itself.
Israeli Intelligence Minister Yuval Steinitz said the army was looking into the claims, but pointed out in an interview with Israel Radio that the IDF had uncovered Hamas missiles being stored in UNWRA schools not once, but twice.
"I am not familiar with the specifics of this report and I am sure the IDF is looking into it," said Steinitz. "But we have to keep in mind that UNWRA schools have already been locations for the storage of missiles, and this needs to be investigated regarding the current claims as well," he said.
Hamas and other terrorists have frequently used schools, hospitals and other sensitive areas to launch their attacks, and have been repeatedly criticized for openly encouraging the use of civilians as human shields.
Earlier this week the IDF release footage showing Hamas and Islamic Jihad terrorists firing an antitank rocket from the Al Wafa Hospital in Gaza, prompting an airstrike - but only after it was clear there were no civilians remaining inside the building.