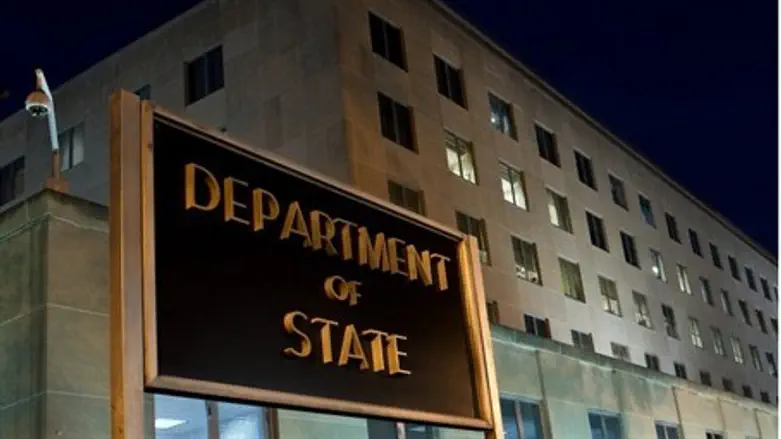 The U.S. State Department in Washington
AFP/File
The United States and Canada both criticized the United Nations Human Rights Council (UNHRC) on Wednesday, in the wake of its intention to launch an investigation into the IDF's operations in Gaza.
Speaking to reporters, Deputy State Department spokeswoman Marie Harf said "we do strongly oppose today's special session at the Human Rights Council and the resulting resolution as the latest in a series of biased, anti-Israel actions at the Human Rights Council."
"We strongly oppose the creation of this kind of mechanism that you spoke about because it's one-sided," she continued.
"No one's looking here at Hamas rockets, no one proposed looking at anything else other than Israel in this case, and again, we oppose it as one-sided," stressed Harf.
Meanwhile, Canada's Foreign Affairs Minister John Baird also condemned the UNHRC decision.
"Canada is frustrated and deeply disappointed that the UNHCR decided to completely ignore the abhorrent terrorist acts of Hamas," he said in a statement.
"This resolution turns a blind eye to the facts on the ground and that one party is responsible for the suffering of the Palestinian people, and that is the international terrorist group Hamas," said Baird.
"Hamas continues to indiscriminately fire rockets into Israeli communities, striking fear in millions of Israelis. Like every other sovereign state of the United Nations, Israel has every right, and the fundamental duty, to protect its citizens.
"There must be no moral equivalence between an international terrorist organization and a liberal democratic state, and today's decision undermines this body's credibility," continued Baird.
"Failure to condemn the reprehensible actions of Hamas has only emboldened its brutality and encouraged these terrorists to continue their inexcusable actions."
The decision to launch an inquiry was made shortly after UNHRC chief Navi Pillay said that there is a "strong possibility" that Israel was violating international law through Operation Protective Edge.
Prime Minister Binyamin Netanyahu's Office slammed the decision as "a travesty".
"The decision today by the UNHRC is a travesty and should be rejected by decent people everywhere," the statement said, pointing out that no such probes were being launched into Hamas's illegal use of human shields and indiscriminate firing at Israeli civilians.
"Rather than investigate Hamas, which is committing a double war crime by firing rockets at Israeli civilians while hiding behind Palestinian civilians, the UNHRC calls for an investigation of Israel, which has gone to unprecedented lengths to keep Palestinian civilians out of harm's way, including by dropping leaflets, making phone calls and sending text messages," the statement continued.
Foreign Minister Avigdor Liberman slammed the UNHRC for its decision to investigate Israel and said the Council has long ago turned into the rights council for terrorists.
"We will continue to fight terror and continue to fight the hypocrisy and anti-Semitism of bodies such as the UNHRC," said Liberman.
"When countries such as Cuba, Venezuela and the like, who do not know the concept of human rights, point an accusing finger towards us, it is a sign that we are doing the right things," he added.