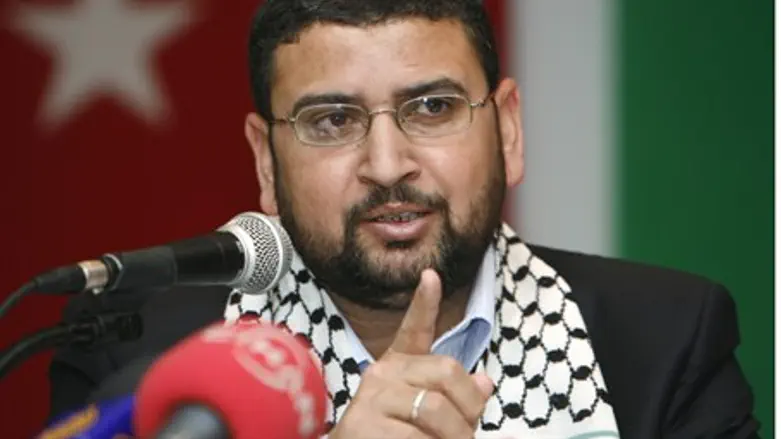 Hamas spokesman Sami Abu Zuhri
Reuters
Hamas said Wednesday that the suspension of some international flights to and from Israel over security concerns about Gaza rocket fire was a "great victory."
"The success of Hamas in closing Israeli airspace is a great victory for the resistance, and is the crown of Israel's failure," Hamas spokesman Sami Abu Zuhri said in a statement.
US airlines were forced to cancel flights after the U.S. Federal Aviation Administration issued a ban on American carriers flying to or from Israel's Ben Gurion International Airport. Several European companies followed suit, as have those from Turkey and Jordan, but most other international airlines have continued to fly.
All of Israel's national airlines are continuing to operate as per usual.
The decision came after a rocket fired from Gaza struck a home in the central Israeli city of Yehud, which is near the Lod-based airport. 
Israeli Transportation Minister Yisrael Katz condemned the decisions to cancel flights as "surrendering to terrorism", and said that the threat to Ben Gurion airport was being exaggerated. Hamas's declaration of "victory" - if somewhat exaggerated - will be seen by many in Israel as illustrating his point.
The Israeli Airports Authority meanwhile announced Wednesday it would open the Ovda military airport, 35 miles (60 kilometers) north of Israel's Red Sea resort of Eilat, as an alternative to Ben Gurion.
Also on Wednesday morning, German airlines Lufthansa announced it would be suspending flights through Ben Gurion for another 24 hours, after initially cancelling them for 36 hours.
Later Wednesday, the FAA extended its ban on flights to Israel for an additional day, pending a decision to lift it.
Twenty-two foreign airlines continue to fly into Israel as scheduled, including British Airways, Aeroflot and Ukrainian Airlines which operate several flights a day.
Today, 209 flights will operate at Ben Gurion airport, with 132,000 arrivals and departures (not including flights arriving in Ovda airport near Eilat from noon today).