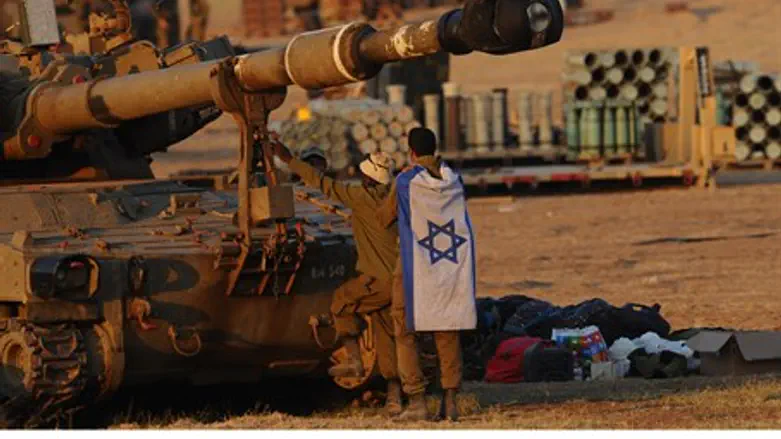 Israeli soldiers at the border with Gaza
Flash 90
Operation Protective Edge's ground offensive has uncovered the full extent of tunnel terror into Israel Wednesday, after a shaft uncovered by the Givati Brigade was revealed to be holding IDF uniforms, maps, and a full weapons cache. 
Shortly afterwards, the IDF clashed with a terrorist cell hiding in another tunnel; one terrorist was injured. 
In a separate incident, the Armored Corps fired on two terror cells who were preparing to fire anti-tank missiles at IDF forces. 
Earlier in the day, IDF forces struck Hamas and Islamic Jihad headquarters in Gaza's Al-Wafa hospital. The strike, while controversial, came only after several days of heavy fire from within the compound - which was filled with civilians. 
The fire reportedly included both light weaponry and heavy anti-tank missiles directed towards IDF armored vehicles.
"The hospital premises were being used as war rooms and command centers by the terrorist groups Hamas and Islamic Jihad," an IDF Spokesperson noted.
Since Operation Protective Edge began 16 days ago, Hamas and Islamic Jihad have fired 2,239 rockets on Israel. 
Of those, 422 were intercepted by the Iron Dome missile defense system; 1,730 exploded in open areas. The remainder have not been found, and are assumed to have struck civilian areas within Gaza. 
IDF Spokesman Brig. Gen. Moti Almoz announced earlier Wednesday that Israel has uncovered or destroyed "most" terror tunnels within Gaza.
Since the beginning of the operation, 210 terrorists are known to have been killed, and 28 terrorists have been arrested, military sources said Wednesday. A total of 28 tunnels have been exposed. Six of these have already been demolished, as have 57 of the shafts that enable access to the tunnels from the ground level.