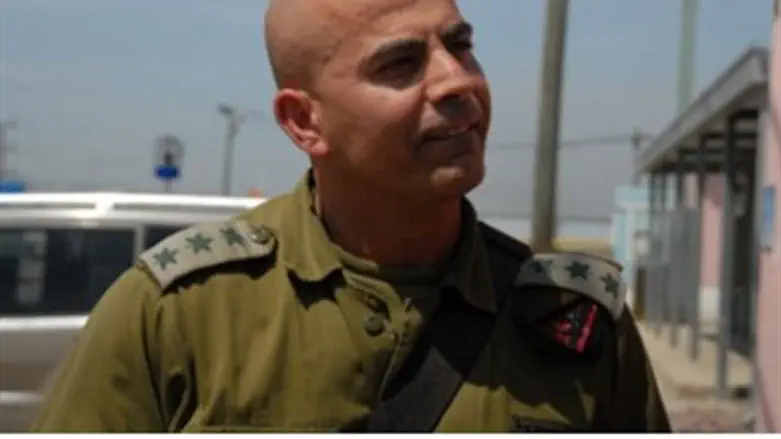 Commander Rasan Alian
IDF Spokesperson's Office
Wounded Golani Brigade commander, Col. Gen. Rasan Alian, announced Tuesday that he intends to immediately return to his unit upon recovering from his injuries - in order to complete the operation to eradicate terrorism from Gaza.
Alian spoke with reporters Tuesday afternoon, emphasizing his great determination, and his troops' determination, to finish the campaign with a "crushing victory" against terror organizations. 
"I was in touch with the battalion on the IDF's recent achievements, and I will return to take control of the division," Alian stated. "Our combat soldiers must get up and move on with the fight."
"We have a strong spirit and a strong brigade," he continued. "I carry the injuries of my soldiers, and if I had a bus, I would drive back [to the front]."
Alian also spoke about his injuries.
"We had a tough battle the morning I was injured," he said. "A rocket-propelled grenade (RPG) exploded a few meters above my head."
"I have a few scratches but I'm ok," he added.
Alian reiterated his support for Operation Protective Edge's ground offensive in general, and for his unit in particular. 
"The Division continues, now, its primary mission to uncover terror tunnels and eliminate as many terrorists as possible," Alian stated. "We have killed many terrorists; that's just what it takes."
"I hope to return, in a few hours, to my unit in Gaza," he said. "I want to send a big hug to the bereaved families. I could not see them, but I will. They strengthen us." 
Alian is the first Druze to have been appointed commander of the Golani Brigade. He is married and father of one; he and his family live in Shfar'am.