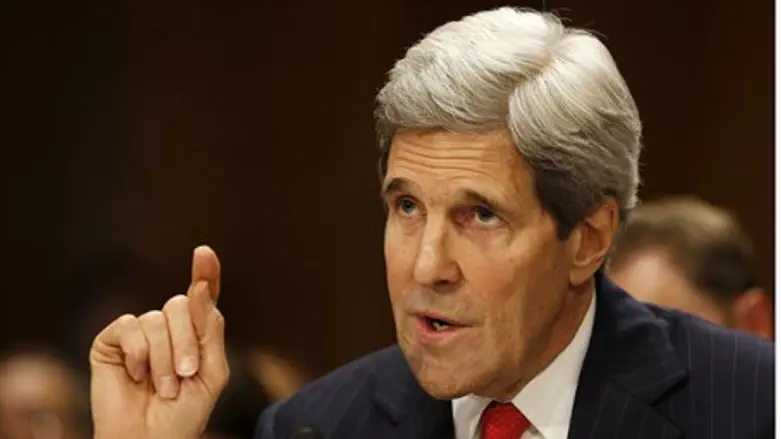 John Kerry
Reuters
U.S. Secretary of State John Kerry on Monday pledged $47 million in humanitarian aid for Gaza as he flew to the region to intensify efforts for an immediate truce, AFP reports.
Kerry, who has voiced willingness to tour the region as long as needed, started his mission in Cairo where he met visiting UN Secretary-General Ban Ki-moon. The two leaders both called for an end to two weeks of violence.
"We are deeply concerned about the consequences of Israel's appropriate and legitimate effort to defend itself," Kerry told reporters as he met Ban.
Kerry said that the United States would provide $15 million to a $60 million emergency appeal from UNRWA, the refugee agency for "Palestinian refugees".
The UN agency said that the number of Palestinians seeking refuge at its sites in Gaza has soared to more than 100,000.
Ban and Kerry both urged Hamas, which controls Gaza, to embrace an Egyptian-proposed ceasefire that has been accepted by Israel.
"Only Hamas now needs to make the decision to spare innocent civilians from this violence," Kerry said.
Hamas categorically rejected attempts for a ceasefire in multiple statements, insisting that the terms of the agreement 'did not apply' to them.
Later, Hamas officials reportedly set a series of unprecedented demands on Israel to accompany a ten-year truce - before threatening Israelis if the government refused to accept.
Ban said that Hamas "should immediately stop firing rockets" but added, "While I understand how and why Israel has to respond militarily, there is a proportionality and ... most of the death toll (has been) Palestinian people."
Kerry plans to hold his own meetings Tuesday with the Egyptian leadership including President Abdel Fattah al-Sisi.
But U.S. officials acknowledged that diplomacy could prove more difficult than in the past, in part because Egypt, long the key regional broker, had little leverage with Hamas after the army overthrew Islamist president Mohammed Morsi last year.
"The objective here is to get the fastest possible ceasefire. That doesn't mean that it's going to be fast, and it certainly doesn't mean it's going to be easy, but that's the goal," a senior U.S. official travelling with Kerry said on condition of anonymity.
A report on Monday night said that a ceasefire in Gaza was imminent and could start as early as Tuesday.
The report, which aired on the Lebanese-based Al Mayadeen network, has not been confirmed by any sources in Israel.