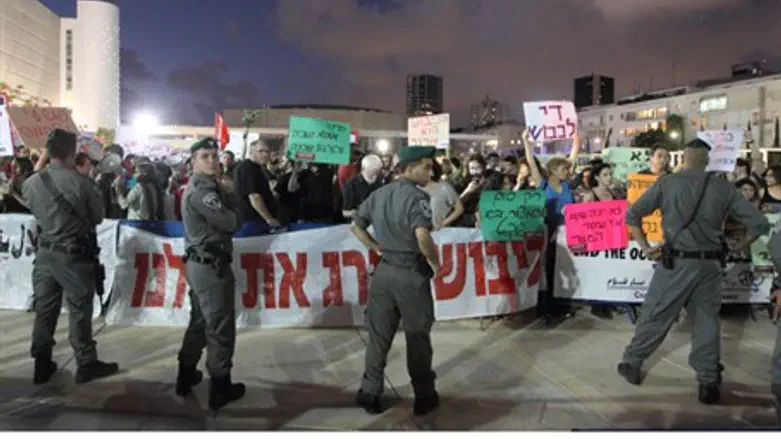 Protests, Haifa
Flash90
As the war on Hamas terror wages on, another battle raged on Israel's streets Saturday night: a war of words.
Leftists and nationalists faced off in Tel Aviv and Haifa on Saturday night, screaming slogans and waving banners.
The leftist camp was stronger in Tel Aviv, according to Walla! News, where the protest was held under the name ""End the massacre in Gaza - enough for an attack on the Palestinian people." 
About 300 people chanted slogans against the operation, screaming "the IDF is a terror organization," "the Occupation will kill us all," and "liberate Gaza!". Hundreds of nationalists held their own counter-demonstration, waving Israeli flags. 
Tel Aviv's demonstration eventually descended into violence, according to the daily, after about 100 extremists on both sides broke police barriers at the site, with some reportedly screaming "Death to Arabs." Eight people were arrested. 
Following the clashes, the Tel Aviv District Police dispatched tens of riot police to the site, noting that they would allow the demonstration to continue - on the condition that public order would be maintained throughout the rest of the protests. 
According to AFP, the nationalist camp held further sway in Haifa, which saw at least 800 nationalist protestors express their support for Operation Protective Edge. Three hundred and fifty leftists held a counter-protest against the operation, under the title "Stop the war, stop the siege!". 
Five people were arrested in Haifa, after clashes began to erupt there as well. 
Clashes between leftist and nationalist protestors have become somewhat common over the past several days, as tensions grow high over the mounting casualties from the IDF's ground operation in Gaza. 
At once recent protest, also in Haifa, Balad MK Hanin Zoabi was briefly handcuffed during clashes from leftist protestors. 
Operation Protective Edge was launched thirteen days ago, after Israel suffered from a constant barrage of rocket fire on major Israeli civilian population centers. 
English: "Free Palestine"credit: פלאש90
credit: פלאש90
credit: פלאש90
credit: פלאש90
credit: פלאש90
credit: פלאש90
credit: פלאש90
credit: פלאש90
credit: פלאש90