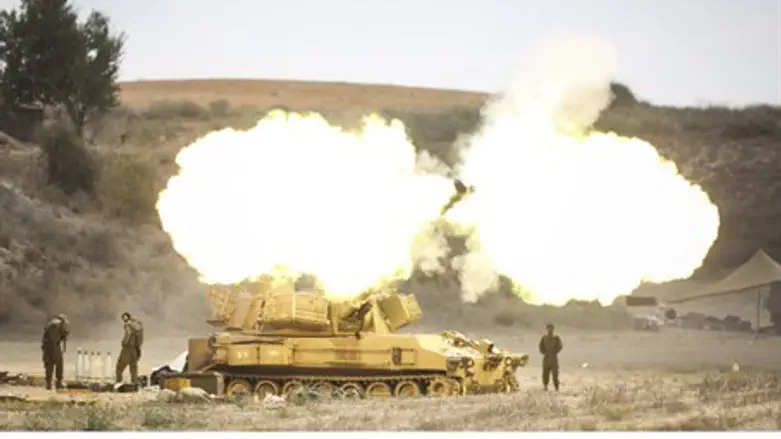 Ground offensive (illustrative)
Flash90
The IDF Spokesperson's Office announced a large expansion of ground forces in Gaza overnight Saturday/Sunday, as part of the ongoing self-defense operation against Hamas, Operation Protective Edge.
The decision was made after an emergency meeting by Israel's foremost political leaders, according to the IDF - which emphasized that the ground operation could expand even further depending on the operation's progress. 
A military source spoke to Arutz Sheva on condition of anonymity early Sunday, noting that since the ground offensive in Protective Edge was launched Thursday night, the IDF sources have uncovered a total of 36 terror tunnels. 
"We found tunnels filled with RPG rockets, explosives, anesthetics, booby-trapped weapons, radios and even mini-bunkers designed to facilitate attack," said the senior officer.
More than 85 terrorists have been killed in three days, he added - twenty of them on Saturday alone. In addition, 450 terror targets have been eliminated - by ground, by air, and by sea.
Operation Protective Edge enters its thirteenth day Sunday, after Hamas fired a constant salvo of rockets on major Israeli population centers. 
Since the beginning of the operation, 1,497 rockets have been launched at major Israeli population centers. Of those, 1,093 rockets hit Israel; 301 were intercepted by the Iron Dome missile defense system. An additional 100 were estimated to have hit Gaza itself, causing an untold number of Palestinian Arab deaths. 
The IDF has attacked over 2,500 terror targets - by ground, by air, and by sea. 
Twenty-three IDF soldiers have been injured since the operation began. Of those, three were seriously injured, two suffered moderate injuries, and the remainder suffered light injuries.
As of last week, 48,000 reserve soldiers had been called up; an additional 18,000 were approved for reserve duty Thursday night. 
Five IDF soldiers have been killed since the operation began, hy"d: Cadet Bar Rahav, 21, of Ramat Yishai; Sergeant Benaya Ruval, 20, of Holon; Col. Amotz Greenberg, 45, of Hod Hasharon; Sgt. Adar Bersano, 20, of Nahariya; and Sgt. Eitan Barak, 20, from Herzliya.
About 40% of Hamas's rocket arsenal has been estimated to have been destroyed since the operation began.
credit: פלאש90
credit: פלאש90
credit: פלאש90
credit: פלאש90
credit: פלאש90
credit: פלאש90
credit: פלאש90
credit: פלאש90
credit: פלאש90
credit: פלאש90
credit: פלאש90
credit: פלאש90
credit: פלאש90
credit: פלאש90
credit: פלאש90