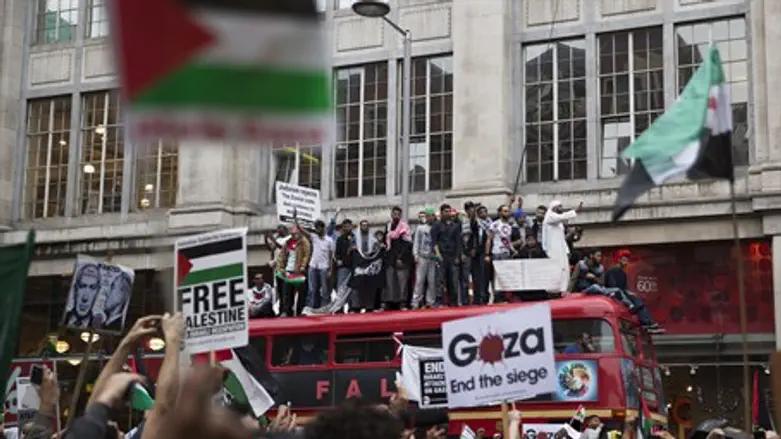 Pro-Palestinian Arab demonstrators protest ag
Reuters
Parts of central London were brought to a standstill on Saturday as thousands of pro-Palestinians marched in protest against Israel's offensive in Gaza, while in Paris a banned demonstration descended into violence.
Organizers of the London rally claimed that "tens of thousands" of people joined the march from Prime Minister David Cameron's office to the Israeli embassy, many of them chanting "Israel is a terror state".
Police refused to give an estimate for the number present but several roads through the centre of the capital were closed during the three-mile (4.8-kilometer) march, which passed off peacefully.
In Paris, by contrast, clashes broke out after hundreds gathered in defiance of a ban on their demonstration, with crowds throwing stones and
bottles at riot police, who responded with tear gas.
Some 33 people were arrested by early evening, a police source said, while three police officers were injured in the disorder near Montmartre in the north of the French capital.
Protests were permitted in other French cities, where thousands turned out including in Lyon, Marseille and Strasbourg, while several thousand also rallied in solidarity with the Palestinians in Brussels.
Twelve days of violence between Israeli forces and Hamas has seen more than 340 Palestinians killed in Gaza, the majority of them civilians, as well as five Israelis.

'Biggest Rally in Years'
In London, demonstrators held up placards pleading for Israel to end its attacks on Gaza, and reading "Stop the bombing, free Palestine" and "End Israeli apartheid".
Opposition Labour lawmaker Diane Abbott said it was the "biggest London Palestinian rally in years".
The leftist Stop the War Coalition, one of the organizers of the march, condemned British and US support for Israel as "nothing less than collusion with war crimes killing women, children and disabled people".
Sarah Colborne, director of the Palestine Solidarity Campaign, said the five-hour demonstration was a "chance to say enough is enough: Israel's siege of Gaza and its occupation of Palestinian land has to end now".
In Paris, police had banned Saturday's demonstration following brutal anti-Semitic violence after similar marches - a move that was widely criticized by those taking part in London.
Hundreds of people, including many women and children, took to the streets regardless, and there were cheers as two Israeli flags were burned in front of the crowd.
"We are all Palestinians," chanted the protesters. Some threw stones at the cordons of riot police before running off, starting a game of cat-and-mouse with police.
In the resulting running clashes, two small vans were set on fire, as well as numerous bins, while the streets were littered with broken glass and debris.
On Sunday, several thousand demonstrators joined in a Paris protest for "Palestinian rights" which culminated in violence against police and minorities. French Muslims eventually tried to break into two synagogues in central Paris, a police source told AFP; tens of them eventually surrounded Don Yitzchak Abarbanel Synagogue in the 11th arrondissement of Paris and threw projectiles at worshippers, requiring large-scale police forces to rescue the trapped Jews. 
Video later surfaced of the Jewish Defense League attempting to ward off the violent protestors. 
Serge Ben Haim, one of the leaders of the Jewish community in Paris, said on Monday that Sunday's incident was a watershed occurrence.
"What existed in the past can no longer continue. We could have had something like Kristallnacht," he told Army Radio, referring to the infamous "night of broken glass" in 1938, when Nazis swept through Jewish towns and neighborhoods throughout Germany and Austria, murdering some 500 Jews, burning homes and synagogues, and destroying shops.
"They decided to advance in large numbers toward the synagogue, and that was where they met our youths who volunteer to protect Jewish places, and then the police," he recalled, noting that police lost control of the hours-long demonstration. 
The US embassy had issued a statement "strongly encouraging" its citizens to steer clear of the Paris protests, warning of the risk of clashes.
Authorities said organizers who defied the ban will face a six-month prison term and 7,500-euro fine.
Protests Spread
About 5,000 leftist and pro-Palestinian demonstrators also held a protest Saturday in the Chilean capital, home to a sizable Palestinian Arab community.
The march took demonstrators to the Israeli embassy in Santiago, where some participants glued pictures of children who have died in the attacks to the walls of the building.
The marchers continued on to the embassy of the United States, seen as Israel's close ally.
Chile in 2011 recognized Palestine as a sovereign state, without specifying where its boundaries should be affixed.
Some 300,0000 people of Middle Eastern and Arab ancestry live in Chile, compared to a Jewish community of just 30,000.
Photos have also emerged of protests against Israel in Belgium, where thousands of Palestinian Arabs and Muslims waved banners with slogans against Israel and showed dramatizations of alleged Israeli victims. 
A close look at the photos shows that the protest was also a rallying cry for Islamism in general, as at least one protestor appears to be waving a black and white Jihad flag. 
credit: Flash90
​