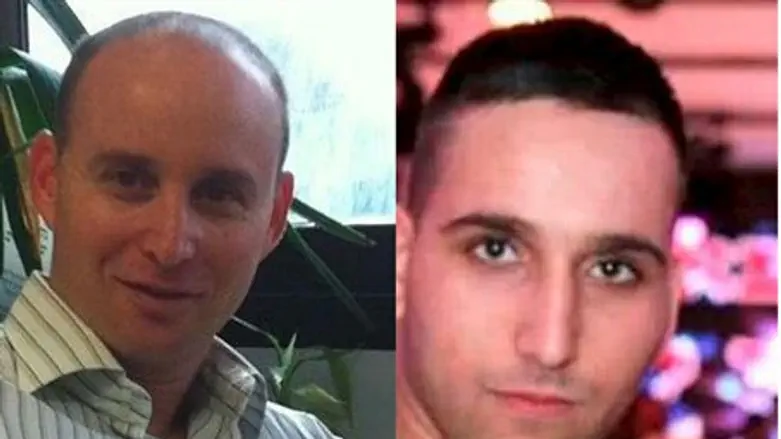 Col. Amotz Greenberg, Sgt. Adar Bersano
Courtesy of the families
An IDF reserve officer, Col. Amotz Greenberg, 45, of Hod Hasharon, and Sgt. Adar Bersano, 20, of Nahariya, were killed Saturday morning after a terrorist squad infiltrated from Gaza into Israel through a tunnel.
The terrorists engaged an IDF motorized force that passed near the location where they emerged from the tunnel, firing at a jeep and killing the two soldiers, and wounding two others.
Initial inquiry indicates that 8-9 terrorists took part in the attack. The tunnel stretched from Gaza, under the security fence and into Israeli territory, opening into a location near Ein Hashlosha. Channel 2 said that the terrorists carried anesthetics and plastic handcuffs, indicating a plan to abduct Israeli soldiers or civilians.
The terrorists approached the first jeep they saw, according to the report, and began opening fire on sight. 
Weapons cache confiscated from tunnel terrorists
IDF Spokesperson's Office
The IDF force returned fire effectively at the terrorist squad despite being caught by surprise, killing at least one terrorist; Greenberg and Bersano were killed as they exited the jeep to apprehend the terrorists. The other terrorists escaped back into Gaza and were attacked by an IAF aircraft. 
Hamas's "military wing," the Ezzedine Al-Qassam Brigades, said 12 of their men stayed "behind enemy lines" for six hours before engaging in "direct confrontation with the enemy to avenge the blood of our martyrs, particularly the children."
The terrorists claimed they "killed six soldiers on patrol and wounded several others," but the Israeli army said there were two deaths.
IDF Spokesman, Brigadier General Moti Almoz, expressed condolences to the soldiers' families Saturday night - and emphasized that the attack was connected to the ground offensive's focus on terror tunnels. 
"Today [Hamas] tried to attack soldiers and civilians, and unfortunately there were casualties among our forces," he told reporters. "These tunnels are not simply for hiding - Hamas planned to abduct Israelis using there tunnels and carry out attacks on Israeli cities and military bases [from there]." 
Bersano will be buried at Nahariya's military cemetery at 5:00 pm Sunday. Greenberg's funeral arrangements are still pending.