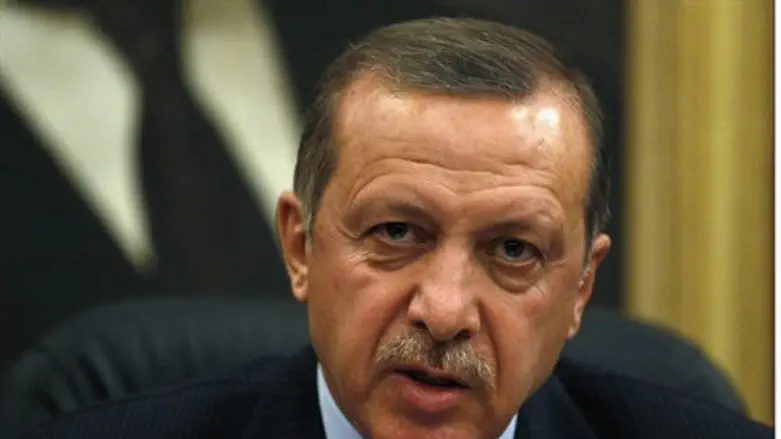 Turkish PM Recep Tayyip Erdogan
Reuters
Turkish Prime Minister Recep Tayyip Erdogan on Friday slammed Egypt's President Abdel Fattah al-Sisi as an "illegitimate tyrant" and said Cairo could not be relied upon to negotiate a truce with Israel.
"Is Sisi a party (to a ceasefire)? Sisi is a tyrant himself," Erdogan was quoted by the AFP news agency as having told reporters.
"He is not different from the others," he said, adding that it was Egypt's current rulers who were blocking humanitarian aid channels to Gaza.
Egypt's Foreign Minister Sameh Shoukri responded and said Erdogan's comments were "unacceptable".
"They have no link with the events in Gaza and do not help in the protection of the people of Gaza," Shoukri said at a news conference in Cairo with his Italian counterpart Federica Mogherini.
Erdogan should rather push all the concerned parties for a ceasefire in Gaza, said Shoukri.
Erdogan, who portrays himself as the global Muslim leader who speaks up for Palestinian Arab rights, said supporting an Egyptian proposal for a ceasefire would mean legitimizing the administration in Egypt.
"Egypt is not a party ... They are trying to legitimize (the Sisi administration) in Egypt. It is not a legitimate administration. It is illegitimate," he said, lashing out at Israeli attempts to exclude Hamas.
"Hamas is a party there," declared Erdogan.
Turkey's relations with Egypt have been strained over the past year, since the ouster of former Islamist president Mohammed Morsi.
Last year, Erdogan condemned the military intervention that toppled Morsi as an enemy of democracy, following which Egypt's foreign ministry summoned Turkey's ambassador to Cairo in protest against "Ankara's interference in Egyptian affairs."
Erdogan has also been critical of Israel over its operation in Gaza, and threatened to end the normalization process with Israel over "state terrorism."
On Thursday, Erdogan accused Israel of attempting a "systematic genocide" of Palestinian Arabs in Gaza.
In response, Transportation Minister Yisrael Katz reminded Erdogan of the Armenian Genocide of 1915.
(Arutz Sheva's North American Desk is keeping you updated until the start of Shabbat in New York. The time posted automatically on all Arutz Sheva articles, however, is Israeli time.)