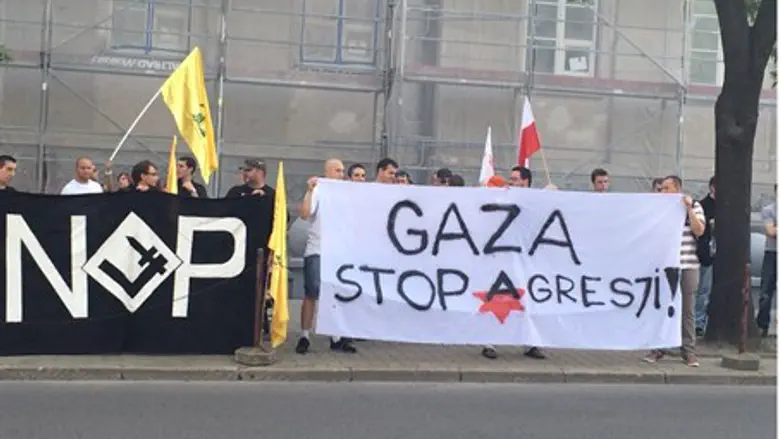 הפגנת הניאו-נאצים בפולין
צילום: ממעמקים
Dozens of neo-Nazis demonstrated in Warsaw, Poland on Thursday in front of the Israeli embassy, demanding an end to Operation Protective Edge to protect Israeli civilians from Hamas's rocket fire. 
The demonstrators called to "bring Israeli flags back into the crematoria chimneys."
The Polish Jewish community staged a counter-protest, along with Chief Rabbi Michael Sodrich and a group of pro-Israel Christians. All bore Israeli flags. 
Johnny Daniels, Chairman of the Mimmamakim project - a group which brought MKs to visit Auschwitz in June for Holocaust Remembrance Day - told Arutz Sheva that the protest shows "the ugly face" of Europe's far-right parties. 
"We see the ugly face of the far-right, which protests here and waves Hezbollah flags 70 years after the Holocaust without shame," he said. "This proves we are still tainted with anti-Semitism in Europe and must never stay silent."