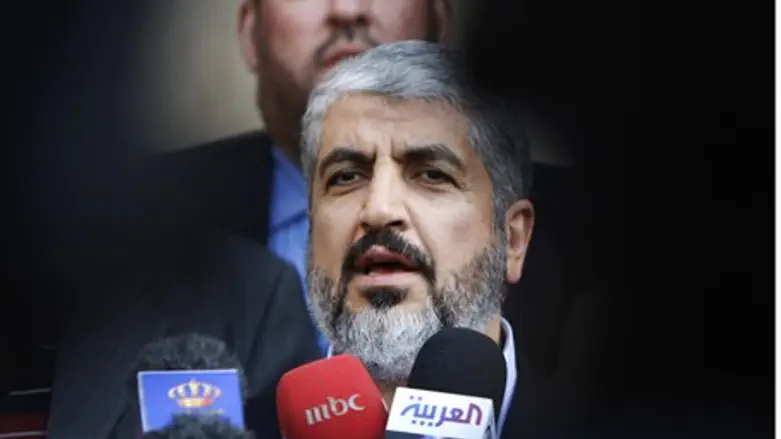 Hamas politburo chief Khaled Mashaal
Reuters
Hamas continues to receive military and political support from Iran, it was revealed Friday.
Hamas leader Khaled Mashaal spoke to Iranian Parliament chairman Ali Larijani Thursday night, shortly after the Israeli government announced it would launch a ground offensive into Gaza.
Mashaal reportedly said that Hamas could deal with every possible scenario, boasting that their main goal is to "break the Occupation and remove the siege on Gaza."
Mashaal also called on Iran and other Arab nations to rally around the "Palestinian cause," and praised Iran's support for the terror organization over the past several years.
Larijani responded that the ground offensive is the result of "miscalculation" on Israel's part and that Iran was "proud" of Hamas's "struggle against the Occupation" and was sure it would bring results.
Mashaal has been in close contact with Iran for years, and called on Iranian President Hassan Rouhani to join Hamas's fight against Israel during last month's Operation Brother's Keeper. 
Iran was the primary sponsor of Hamas until being replaced in that position by Turkey in 2012.
Iran has provided Hamas and Islamic Jihad with long-range missiles such as the Fajr-5 and M302 - the latter of which is believed to have been used in the Hadera attack. Earlier this year Israeli naval commandos seized the Klos C ship, and discovered weapons including long-range rockets destined for terrorist groups in Gaza.
Despite its active role in providing the rockets raining down on Israeli population centers, Iran condemned the IDF operation aiming to stop the rockets as "savage aggression" earlier this month.