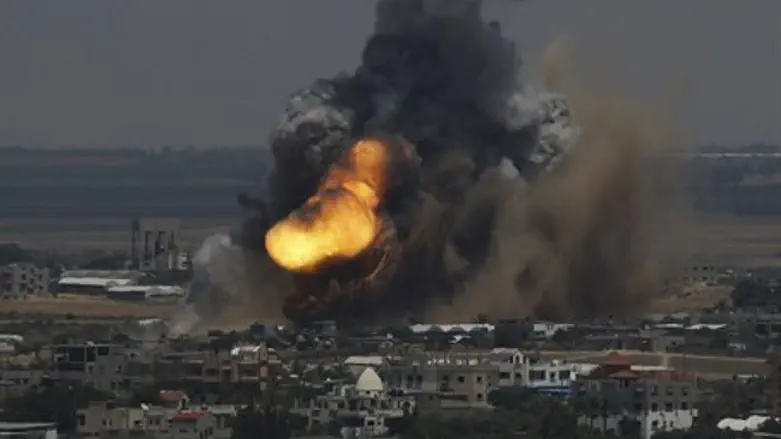 IAF airstrike in Gaza
Reuters
The Palestinian Authority (PA) and Hamas are urging residents not to respond to the IDF's warnings to evacuate towns in Gaza close to the Israeli border on Thursday, as the IDF gears up for a possible ground offensive. 
Hamas's "Public Security Ministry" in Gaza issued a statement praising "martyrs" who have become human shields on Thursday, as part of the ongoing Hamas campaign to undo Israel's humanitarian efforts to save civilian lives.
"Our mighty people presented a unique example of steadfastness and perseverance, and are not affected or fearful from the psychological warfare from the Occupation," Hamas boasted. "They did not respond to calls from the Occupation to leave their homes - they stayed there and did not abandon them." 
"We applaud, in particular, the strength of our residents in border areas, and their refusal to leave their homes and their land," they continued. "They converge around our heroes in the Palestinian struggle." 
Hamas has encouraged civilians over and over again to become human shields as an "effective strategy" in the PR war against Israel. 
By contrast, the IDF has dropped leaflets, sent phone messages, and issued general warnings to all civilians within range of upcoming airstrikes to prevent further harm. 
In addition, several of the rockets fired from Gaza have never made it on to Israeli soil, and may be partially responsible for Palestinian Arab deaths from within Gaza itself.
According to the IDF Spokesperson's Office, over 100 rockets fired at Israel have fallen short of their targets, causing an unknown number of deaths.