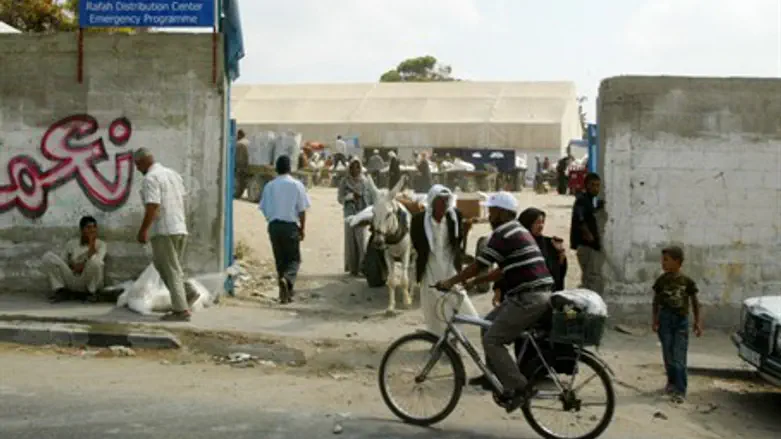 UNRWA in Refugee Camp
Flash 90
The UN agency for Palestinian Arab "refugees," the UNRWA, said Thursday it was investigating after finding 20 rockets hidden in one of its vacant schools in Gaza, AFP reports. 
It condemned the incident as a "flagrant violation" of international law and said the rockets had been removed and the "relevant parties" informed.
"Yesterday, in the course of the regular inspection of its premises, UNRWA discovered approximately 20 rockets hidden in a vacant school in the Gaza Strip," the agency said in a statement.
"UNRWA strongly condemns the group or groups responsible for placing the weapons in one of its installations," it continued. "This is a flagrant violation of the inviolability of its premises under international law."
It said the incident was the first of its kind, warning that it "endangered civilians including staff and put at risk UNRWA's vital mission."
The statement said UNRWA "informed the relevant parties and successfully took all necessary measures for the removal of the objects."
"UNRWA has launched a comprehensive investigation," it concluded. 
It is well-known that Hamas hides amongst civilians and uses them as human shields, a strategy which has been highlighted specifically during Operation Protective Edge, which is now ending its tenth day.
UNRWA: Connected to Terror?
UNRWA began activities in 1950 to provide aid to the roughly 700,000 Arabs who left Israel during the War of Independence, as an entirely separate entity from the UN's main refugee agency, the UNHCR. No UN organization was established to aid the nearly 1 million Jewish refugees who fled or were expelled from Arab countries following 1948.
Uniquely, "Palestinian refugee" status is "inherited" by the descendants of the original refugees, meaning that today the number of "Palestinian refugees" numbers 5 million in total. Instead of resettling them and helping them to rebuild their lives, however, UNRWA operates an extensive network of "refugee camps" in which residents are encouraged not to integrate into their host countries.
Documentary research has revealed how UNRWA children's camps radicalize participants, with chants of: "with G-d's help and our own strength we will wage war. And with education and jihad we will return!" At one point, a camp instructor branded Jews as "wolves," the study showed.
US Congressmen have likewise questioned US funding for UNRWA given reports on how the group's educational texts incite and radicalize "Palestinian refugees."
More to follow.