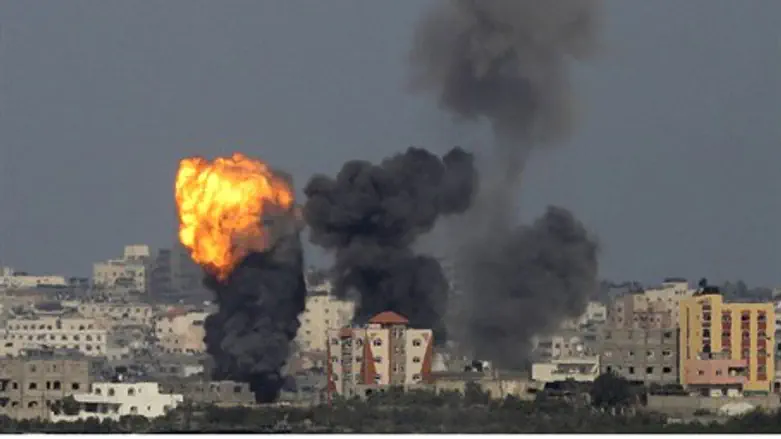 Israeli airstrike in Gaza
Reuters
IDF Spokesman, Brigadier General Moti Almoz addressed reports of four Palestinian Arab children being killed in an IAF airstrike on Wednesday, noting that the accidental deaths were the result of Hamas using civilians as human shields. 
"Hamas is hiding among civilians targets," Almoz said, on Channel 2. "Hamas continues to make cynical use of civilian casualties and we will continue to operate within a civilian environment." 
The IDF is still conducting an internal investigation on the reports.
If true, he said, "the fact that uninvolved civilians were killed is a tragic event. It is important to remember the cynical use of civilians by Hamas in Gaza, which holds them hostage by encouraging them to stay in the line of fire as Israel take out terrorist targets."
"As demonstrated numerous times in recent days, the IDF has no intention to harm civilians caught in the reality of fighting between Israel and Hamas," he continued. 
The international media has fired a frenzy over the alleged deaths, with witnesses telling reporters at some outlets that Israel was deliberately targeting the children. 
Emergency services spokesman Ashraf al-Qudra named the four children as Ahed Atef Bakr, aged 10; Zakaria Ahed Bakr, also 10; Mohamed Ramez Bakr, 9, and Ismail Mohamed Bakr, 11.
During the current escalation, Hamas has openly boasted about the "success" of its strategy of using civilians as human shields, and the IDF has published extensive evidence of the practice.
Hamas has in the past urged Gazans to ignore warnings from the IDF about upcoming strikes, in remarks caught both on Hamas-sponsored television and on the radar of international media outlets.
Hamas even made statements dismissing those warnings to AFP early Wednesday, claiming they were a 'scare tactic' as opposed to a humanitarian gesture. 
"This is part of the psychological war, intended to disrupt the domestic front," it said in a statement.