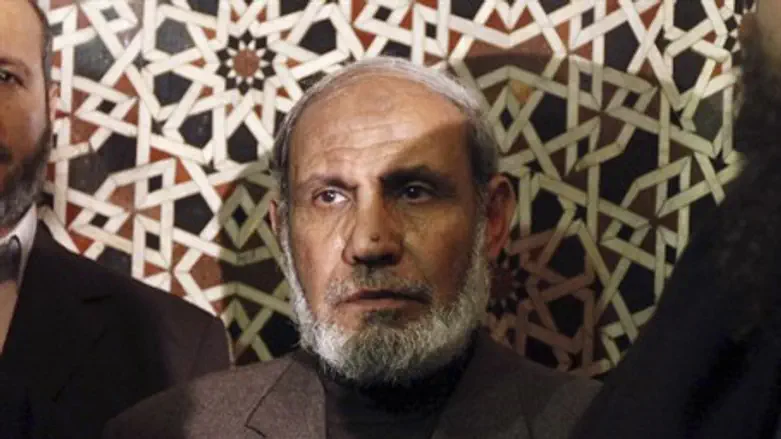 Mahmoud al-Zahar
Reuters
An Israeli airstrike on Tuesday night targeted the home of senior Hamas leader Mahmoud al-Zahar, security officials told the AFP news agency.
There was no one in the house, in western Gaza City, at the time the airstrike hit, the security sources and witnesses said.
Witnesses said at least two missiles hit Zahar's home, flattening the four-storey building and causing damage to the adjacent mosque and several neighboring houses.
Israeli strikes also hit the home in western Gaza City of Bassem Naim, a senior Hamas official, and those of former health minister Fathi Hammad and Hamas MP Ismail al-Ashqar, both in Jabalia in the north.
The airstrikes came hours after the IDF advised residents of several neighborhoods in northern Gaza to leave their homes ahead of an impending airstrike.
"As part of our effort to avoid harming civilians, we are sending messages to residents of northern Gaza to leave homes for their own safety," the IDF Spokesperson tweeted on Tuesday night.
The IDF routinely warns innocent civilians ahead of an airstrike so that they are unharmed, whereas Hamas openly boasts about the "success" of its strategy of using civilians as human shields.
Al-Zahar recently issued a direct threat against Israel, declaring that Hamas has rockets that can hit any city in Israel.
He further said that during Operation Pillar of Defense in 2012, Hamas held a "dry run" in attacking Israeli cities such as Tel Aviv and Jerusalem. Hamas is known to have test-fired long-range M-175 rockets that can reach Tel Aviv and even beyond that when fired from Gaza.
It is believed that Al-Zahar  and the other senior leaders of Hamas are hiding in underground bunkers.