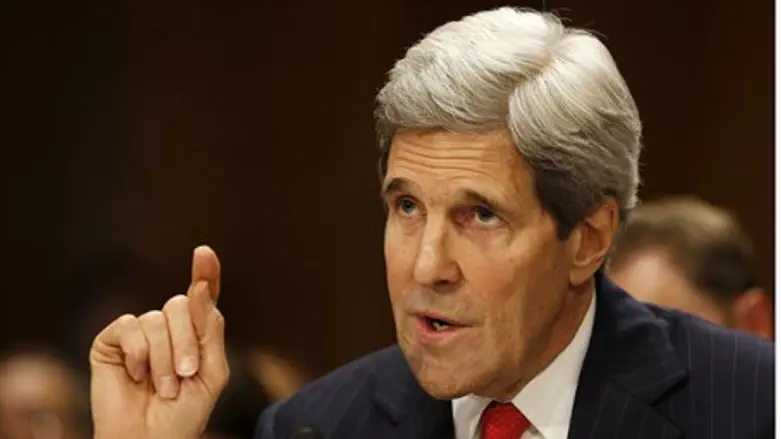 John Kerry
Reuters
US Secretary of State John Kerry urged Hamas to accept Egypt's ceasefire proposal to halt fighting with Israel in Gaza.
In a brief statement released by the State Department on Tuesday, Kerry welcomed Israel's decision to accept the proposal.
"The Egyptian proposal for a ceasefire and negotiations provides an opportunity to end the violence and restore calm," Kerry said. "We welcome the Israeli cabinet's decision to accept it. We urge all other parties to accept the proposal."
Prime Minister Binyamin Netanyahu delivered a message to Hamas Tuesday in a press conference, according to which the IDF operation in Gaza will continue and be widened, unless Hamas stops firing at Israel.
"If Hamas rejects the ceasefire, we will have international legitimation to restore the neeeded quiet," he said, some three hours after the hour set for the ceasefire passed, only to be followed by more rockets from Hamas.
"The goal of the operation was and remains to restore quiet while delivering a harsh blow to Hamas. We have hit them very hard and we foiled attempts to terrorize Israel's population.
"We heeded the Egyptian offer in order to give a chance to demilitarization of the Gaza Strip by diplomatic means. If Hamas rejects this – and it looks that way – Israel will have all the legitimacy to restore quiet," he added.
According to the IDF, at least 22 rockets have been fired on Israel since 9:00 am. 
Sirens have sounded in Sderot, the Eshkol region, Ashkelon, Ashdod and S'dot HaNegev (12:08 pm; again at 12:18 and 12:23 pm). 
Sirens also sounded in Rehovot and Yavne (12:24 pm), as well as up north - Zihron Ya'akov, Carmel, Haifa, Menashe areas (12:30 pm). 
Sirens sounded for a third time in the Hof Ashkelon area, at roughly 11:45 am. 
Earlier, sirens rang throughout Sderot, Sha'ar HaNegev, Ashkelon, Ashdod, Hof Ashkelon, Beit Raban, Gan Yavne, Kannot, Kiryat Malachi, Be'er Tuvia, and the Eshkol region, shortly after 11:15 am. 
Sirens sounded at 10:36 am throughout the Eshkol region. 
Sirens sounded at roughly 10:00 am in Ashkelon, throughout the Eshkol region, and in communities near Gaza. Two rockets fell in open areas in the Eshkol region; no injuries or damage have been reported. 
'Cease-Fire?'
Israel accepted the truce in a surprise move Tuesday morning, after Hamascategorically rejected the notion of a ceasefire Monday night. 
"A ceasefire without reaching an agreement is rejected. In times of war, you don't cease fire and then negotiate," Hamas spokesman Fawzi Barhoum told AFP.
Hamas spokesperson Sami Abu Zahri reiterated this Tuesday morning.