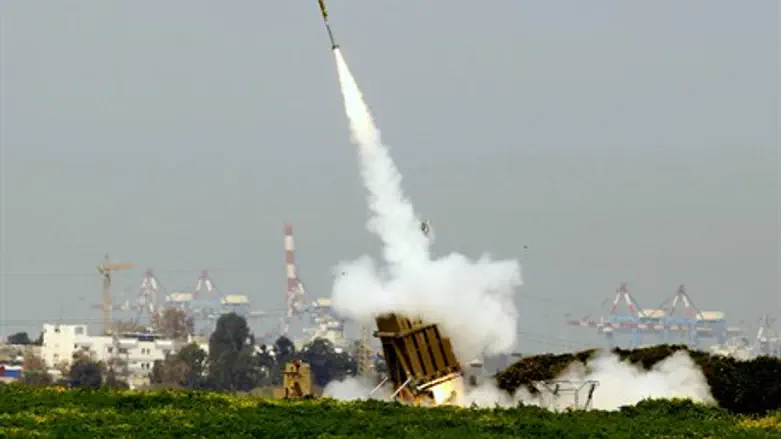 Iron Dome employed against Gaza rocket
Flash 90
Sirens sounded in the Tel Aviv area on Friday morning at approximately 10:45 a.m., in what Hamas claims to be its first attack targeting the Ben Gurion International Airport.
The Iron Dome anti-missile defense system shot down three rockets over the Tel Aviv area, according to the IDF Spokesperson's Office.
However, shrapnel from the intercepted rockets has fallen in multiple places throughout the Tel Aviv metropolitan area, including one near a gas station; no injuries or damage have been reported.  
Hamas claimed responsibility for the attack, boasting that this is the first time they have specifically targeted Ben Gurion Airport, according to Yedioth Aharonoth. The terror group claimed to have shot four domestically produced M-75 rockets at the airport.
"We are sending a message to all foreign airlines operating flights into the Zionist entity, asking them to stop flying into the entity because of the dangers surrounding all the airports due to the ongoing war," it said in a statement, according to AFP. 
All flights stopped for a ten-minute period during the rocket fire; as of 11:20 am, there are no plans to close the airport despite the security situation. 
Hamas has focused its rocket fire heavily on Israel's most populated areas, having fired at Tel Aviv every day since Tuesday. Twelve rockets were fired at the Gush Dan area on Thursday alone. 
The "code red" alert sounded in Herzliya, Tel Aviv, Rishon LeTzion, Bnei Brak, Givat Shmuel, Lod, Ben Gurion Airport, Holon, Kfar Chabad, and most of the Gush Dan area. 
Sirens also sounded throughout Ashdod, and several explosions were heard. As of 11:00 a.m., additional sirens were sounded in the Sha'ar HaNegev area. 
The recent barrage comes after one man was seriously injured in Ashdod Friday morning when a terrorist rocket scored a direct hit on a gas station in Ashdod.