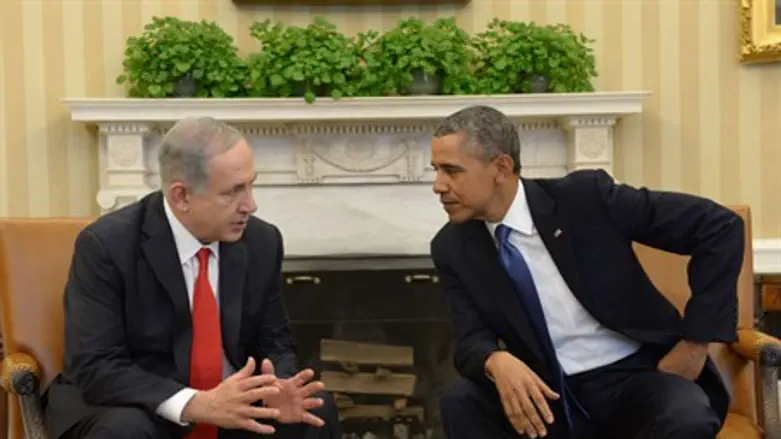 Netanyahu and Obama (archive)
Flash 90
U.S. President Barack Obama on Thursday told Prime Minister Binyamin Netanyahu he was worried that the fighting with Hamas in Gaza could escalate, and offered Washington's help to broker a ceasefire, AFP reported.
"The president expressed concern about the risk of further escalation and emphasized the need for all sides to do everything they can to protect the lives of civilians and restore calm," the White House said in a statement.
"The United States remains prepared to facilitate a cessation of hostilities, including a return to the November 2012 ceasefire agreement."
The 2012 deal, brokered by former secretary of state Hillary Clinton and Egypt, ended the counterterrorism Operation Pillar of Defense.
The White House statement said that Obama told Netanyahu that he understood Israel had a right to defend itself and that he condemned rocket attacks by Hamas and other terrorist groups launched from Gaza.
The IDF continued Operation Protective Edge on Thursday, hitting 930 terror targets in Gaza.
Gaza terrorists, for their part, continued the rocket onslaught on Israel. While the terrorists have used long-range rockets and have hit almost as far as Haifa, the bulk of the rockets targeted southern Israel as has been the case for years.
Earlier Thursday, State Department spokeswoman Jen Psaki reiterated that Washington supports Israel's right for self-defense and pointed out that Hamas was responsible for the death of civilians.
"Civilians have been killed, and certainly that's of concern to us, and that's one of the reasons that we have been certainly calling for all sides to de-escalate tensions on the ground," she said, when asked by a reporter if she thought that "the utility of an F-16 to bomb a home and kill five civilians was appropriately done."
Psaki continued, "It's tragic and our condolences go out to the families, but I would remind you who is at fault here, and that is Hamas and the indiscriminate attacks that they have launched against Israel."