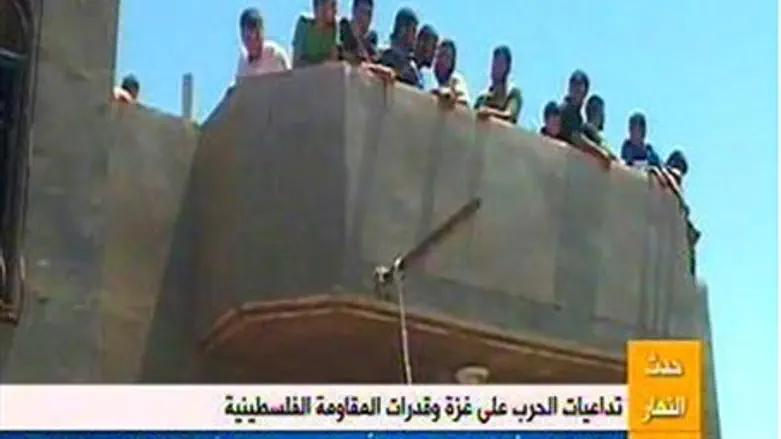 Human shields
IDF Blog
Hamas has instructed Gaza residents to ignore text messages and phone calls urging them to evacuate buildings, in an apparent effort to grow its supply of "human shields." The calls and messages are sent by Israeli military officials in order to give civilians time to evacuate the area, and are communicated before the IDF targets a house terrorists were using as cover for firing missiles at Israel or for other military purposes.
The Hamas-run Palestinian Authority Interior Ministry said in a message to Gaza residents that the messages "are designed to weaken our resolve and to sow panic and fear among us, in light of the failures of our enemies. We call on Gaza residents not to pay attention to these messages and not to leave their homes."
The message did not say whether Hamas would dispatch personnel to ensure that individuals inside targeted buildings remain inside.
The move, Israeli officials said, was apparently designed to prevent the ongoing demolishing of homes and buildings belonging to top Hamas terrorists. Since the beginning of Operation Protective Edge three days ago, the IDF said Thursday, it has hit over 800 terror targets in Gaza – more than in the entire six days of 2012's Operation Defensive Shield.
In the 24 hours until 6 a.m. Thursday, the army said, 322 terror targets were destroyed, including 217 rocket-launching sites, as well as the homes of 46 Hamas commanders. By now, the army said, nearly all of Hamas' top commanders and their families were homeless.
On Wednesday, The IDF published video and photographic evidence of the use of human shields by Hamas. In a screenshot of a television broadcast from July 8, civilians gather on the roof of the home of a Hamas terrorist who was targeted by the IDF. They did so in order to act as human shields and deter an imminent IDF attack, explained the military.
In one instance near the start of Operation Protective Edge, seven people were killed after locals responded to an Israeli warning flare by flocking to act as human shields at the site of the intended strike just moments before it was hit.
Israeli leaders have often accused Hamas and other Arab terrorist groups of committing a "double war crime" via such methods - firing indiscriminately at Israeli civilians while using Palestinian Arab civilians as human shields.
In an interview earlier Thursday Economic Minister and Jewish Home party head Naftali Bennett said that Hamas was to blame for any civilian casualties in Gaza as a result.
"Hamas has missile-launchers hidden in homes and in schools," he said. "I myself was a commando fighter in Gaza and I saw missile-launchers in the living room of a home. When you do this you are killing your own children. Hamas is clearly responsible for the very unfortunate death of Arab citizens."