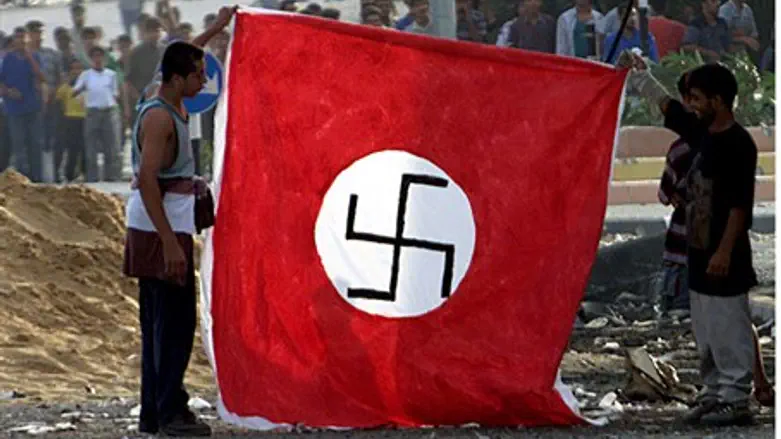 Palestinian Arabs hold Nazi flag at Netzarim
Reuters
On the day that Palestinian Authority (PA) Chairman Mahmoud Abbas compared the murder of Palestinian Arab teen Mohammed Abu Khder to the Nazi extermination of millions at Auschwitz, the Middle East Media Research Institute (MEMRI) has exposed a clip of another Fatah member making the same comparison.
In an interview with Fatah MP Abdallah Abdallah, which aired on Palestine Today TV on July 7, the lawmaker claimed that Israel is "leading its people towards a new Nazism" and that Abu Khder's murder was the "Palestinian Kristallnacht".
Abdallah also referred to the three Israeli teenagers who were murdered by Hamas terrorists as "soldiers", similar to a recent suggestion by a Jordanian journalist.
"Until now, there has been no physical evidence that the three Israeli soldiers that disappeared who disappeared on June 12 and were found dead 18 days later…
"The Israelis have not presented any physical evidence showing how they disappeared, who hid them, who killed them, and when…," said Abdallah.
"Everything is based on suspicions. Israel started to feel isolated. It began to fear that it would become an outlaw, pariah state, and would encounter the same fate as the Apartheid in South Africa. That is why its reaction is characterized by confusion and deranged extremism," he claimed.
"Israel is leading its people towards a new Nazism in the literal sense of the word. What is the difference between burning a person in a gas crematoria or burning him in the open air? The lie of many Jewish leaders…," charged Abdallah.
"They used to reprimand the world saying that if the world had paid attention to Kristallnacht in 1938, when the Germans destroyed Jewish shops in Berlin and Munich...
"They said that if the world had paid attention to this event and had stopped these crimes, the Holocaust would not have taken place. (The murder of) Mohammed Abu Khder is the Palestinian Kristallnacht," he said.
Abdallah's remarks, as well Abbas's, are not the first use of Nazi symbolism among Palestinian Arab officials.
As noted in an Arutz Sheva report last year, the use of Nazi symbolism is commonplace among all groups, including  the Islamic Jihad and Hamas.