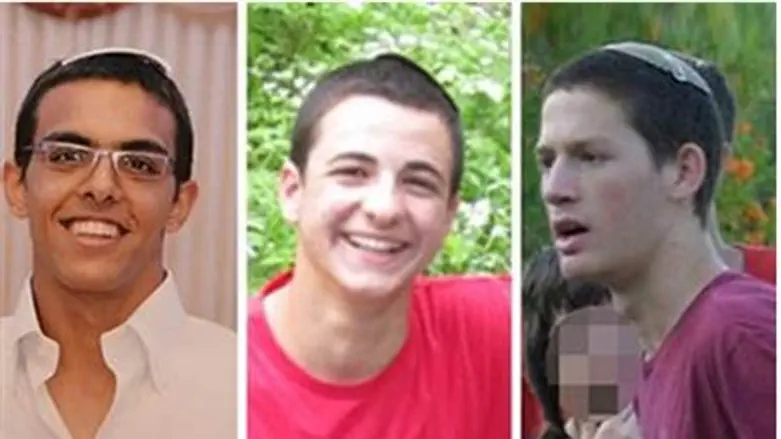 Still missing (L to R): Eyal Yifrah, Gilad Sh
courtesy of the families
Three Israeli teenagers kidnapped and murdered by Hamas were the victims of a premeditated execution by their captors, and were never meant to be used as bargaining chips to free imprisoned terrorists, according to a US official involved in the case. 
The American official also claimed that investigators believe the two terrorists were disguised as religious Jews, and were therefore able to lure the three teens into the car as they hitchhiked home without any hint of suspicion.
The official told Reuters that the boys were shot 10 times with a silenced weapon after being abducted on June 12. The use of a silenced weapon indicates the terrorists had always intended to kill them shortly afterwards, the official said, refuting speculation that Eyal Yifrah, Gilad Sha'ar and Naftali Frenkel were only shot after the terrorists "panicked" when Gilad managed to make an emergency call informing authorities of the kidnapping.
Tragically, the call was initially dismissed as a prank, delaying the search for the boys by many hours.
However, as a recording of the call released after their bodies were found illustrates, even had the police acted immediately it would have been too late to save the teens. Just seconds after Gilad can be heard telling the operator "We've been kidnapped!" shots ring out - and the muffled, "tinny" reports from the gun are consistent with the sound a silenced weapon would make, according to investigators.
US security services are involved in the case as 16-year-old Naftali Frenkel was a US citizen. The FBI was reportedly handed a copy of the recording just a few days after it was obtained by Israeli security services and have been analyzing it for clues ever since.
Israeli officials were reluctant to respond to the claims, telling Reuters that the investigation was still ongoing and that it was too soon to draw any conclusions.
"We haven't even caught the kidnappers yet, so we're not going public with anything more now," an unnamed Shin Bet source said.