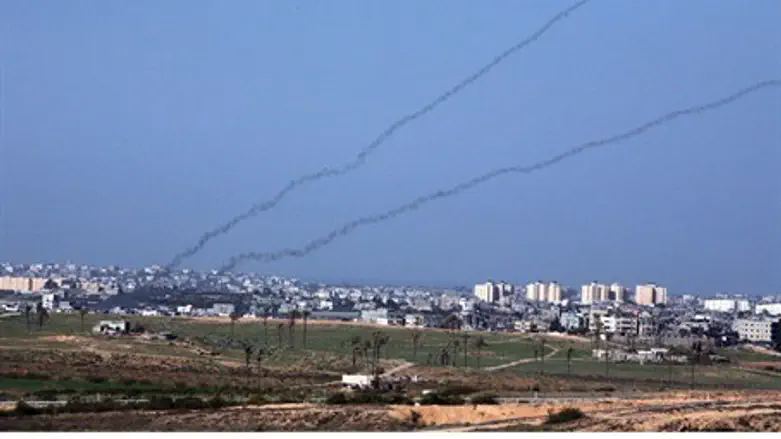 Rocket trails streaking out of Gaza (file)
Flash 90
A Hamas Grad Katyusha terror rocket was intercepted in the skies over Bat Yam, south of Tel Aviv, Wednesday afternoon, according to Channel 2. One other rocket fell harmlessly in an unpopulated area.
The Iron Dome anti-missile defense system is used only against rockets that are seen to be headed toward populated or industrial areas. If the Iron Dome system judges that an enemy rocket will strike ground harmlessly in an empty area, the battery's operators usually opt to let the rocket fall and explode instead of wasting costly Iron Dome missiles on intercepting it.
Sirens sounded near Haifa in Hadera, Zikhron Ya'akov, Caesarea and Hof HaBonim on Wednesday afternoon - at least 45 kilometers (almost 30 miles) north of Tel Aviv, and the farthest attack recorded from Gaza in the ongoing rocket barrage. 
Two rockets landed in the sea near Haifa, reports AFP, noting the city is 165 kilometers (102 miles) away from the Hamas stronghold of Gaza.
One man has been lightly injured from shrapnel wounds from a rocket impact in the Zikhron Ya'akov area. Magen David Adom (MDA) medics are treating him at the scene.  
Hamas has taken responsibility for the rocket fire close to Haifa, according to Walla!, stating that the rockets fired were of the R-160 model.
Map: farthest rockets from Gaza yet.
Google Maps
Meanwhile, rocket after rocket is being fired on the south, with multiple explosions heard near Ashkelon, Ashdod, and communities close to Gaza. 
The long-reaching rocket comes after a late night salvo of rockets on Tuesday hit Jerusalem, Tel Aviv and as far as Hadera, located just south of Zikharon Ya'akov.
Iran has provided Hamas and Islamic Jihad with long-range missiles such as the Fajr-5 and M302 - the latter of which is believed to have been used in the Hadera attack. Earlier this year Israeli naval commandos seized the Klos C ship, and discovered weapons including long-range rockets destined for terrorist groups in Gaza.
Despite its active role in providing the rockets raining down on Israeli population centeres, Iran on Wednesday condemned the IDF Operation Protective Edge aiming to stop the rockets as "savage aggression."