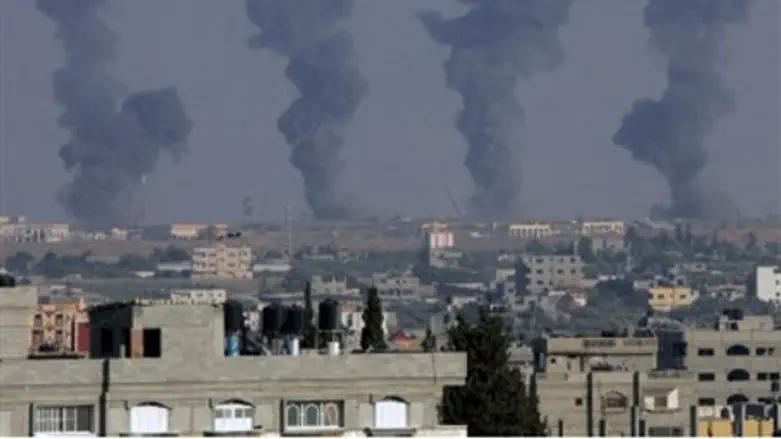 Smoke rises from Gaza airport
Flash 90
Some 120 rockets from Gaza were fired at Israel on Tuesday, the first day of the IDF's Operation Protective Edge.
IDF Spokesperson Peter Lerner told the AFP news agency that 23 of the rockets were intercepted by the Iron Dome missile defense system, with most of the rest exploding on open ground causing no damage or casualties.
Hamas upped the ante on Tuesday and extended the range of the rockets.
The latest salvo of rockets on Tuesday evening hit Jerusalem, Tel Aviv and as far as Hadera, which is located 45 kilometers (28 miles) north of Tel Aviv and south of Haifa.
Hadera is the furthest point to date that a Gaza rocket has reached.
On the Gaza side, emergency services told AFP, 27 people were killed and more than 100 wounded in Israeli airstrikes
Emergency services spokesman Ashraf al-Qudra told the news agency two teenagers were among the dead and that at least another 25 people were wounded in one of the airstrikes.
It was the most serious flare-up in and around the Islamist-controlled territory since November 2012, and came as Israel's cabinet reportedly authorized the army to call up 40,000 reservists for a possible ground assault on Gaza.
Some of the civilian casualties were a result of terrorists using civilians as human shields, a fact which Prime Minister Binyamin Netanyahu emphasized in a statement on Tuesday evening.
"The IDF aims its actions against Hamas terrorists and not against innocent civilians," Netanyahu stressed. "But Hamas purposely hides behind Palestinian civilians, and therefore bears responsibility when they are inadvertently hit."