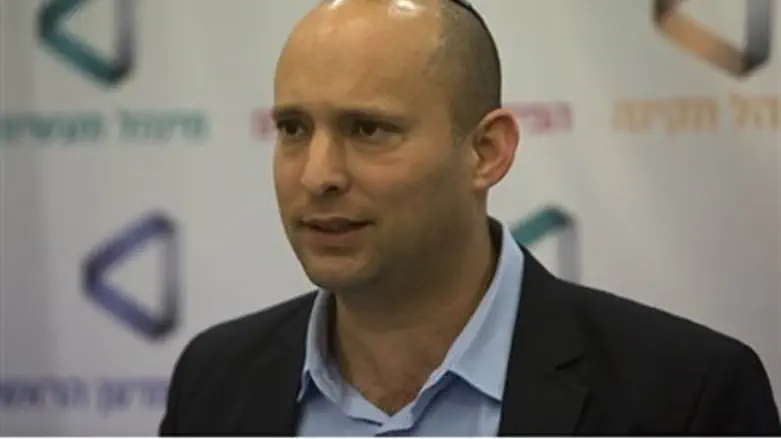 Naftali Bennett
Flash 90
The Minister of Economics, Jewish Home Chairman Naftali Bennett, was verbally and physically assaulted Tuesday in the course of the Peace Conference sponsored by ultra-leftist newspaper Haaretz.
Bennett was one of the few speakers invited to the conference from outside of the political left. When he walked up on the stage, boos and catcalls of "fascist" and "murderer" were heard from the audience.
Additionally, cries of "Mohammed Abu Khder's blood is on your hands" were heard, a reference to the 16-year-old Arab youth found murdered last Wednesday.
Bennett's speech, which dealt mainly with fighting terror organizations in Judea, Samaria and Gaza, was cut off several times. "This is the last place in which I thought you would try to stifle free speech," Bennett replied to his attackers.
After the speech was interrupted numerous times, Haaretz publisher Amos Schocken got on the stage and said "there are people here who thought that we need to speak with (former Palestinian Authority Chairman Yasser) Arafat. It can't be that they won't let Bennett be heard."
The Jewish Home leader used a phrase familiar to smartphone GPS users when he asked rhetorically if it was not time for the left wing to "recalculate its route." He insisted that he, too, wants "to present a vision of peace" – on the condition that it be a true peace.
"The Jewish people and the state of Israel do not want war," he explained. "Someone here said, with chutzpah, 'you do.' To my regret, I fought in the first intifada, the second one and the Second Lebanon War. No one in this room can moralize to me about wanting peace. No one in the state of Israel wants peace more than I do."
At the end of the speech, as Bennett got down off the stage, a group of roughly 20 to 30 youths tried to physically attack him. One of them succeeded in reaching him and punching him in the back.
Bennett no sooner spun around and said "who hit me?" than he was whisked away from the scene by security.
Speakers at the conference also included outgoing President Shimon Peres, Justice Minister Tzipi Livni, the EU Ambassador to Israel, and Palestinian Authority Mahmoud Abbas, who addressed the audience via a recorded message.