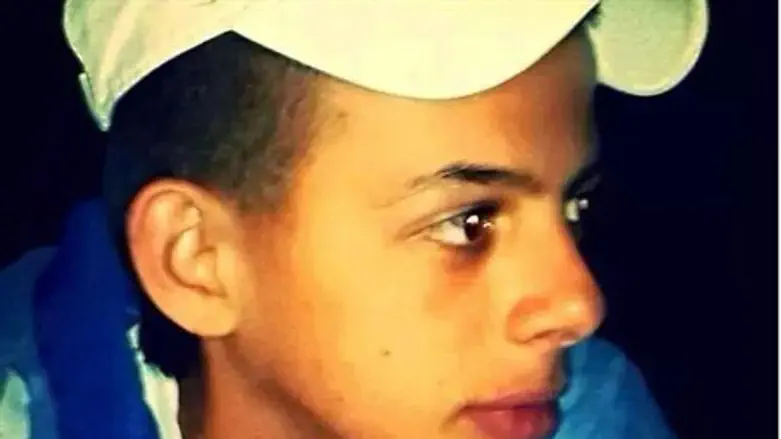 Murdered: Mohammed Abu-Khder
Reuters
Further details about the six suspects in the murder of 16-year-old Mohammed Abu Khder, who was found burned to death in the Jerusalem Forest last Wednesday, have emerged in an interview with the father of one of the suspects.
The father of a minor, who is among three of the arrested suspected of aiding the murder, spoke to Walla! on Monday saying "my son isn't connected to this, I know them all very well and they aren't connected to this."
"Those who are connected are his cousins, the family of my wife," added the man. On Monday, police reported that three out of the six suspects arrested on Sunday confessed to the murder of the Arab teen, and even re-enacted the crime for investigators.  
The father claimed that the main suspect in the murder "has psychological problems. He's a dear person and wouldn't have done something like this. If he did do something like this, it's because of his sickness."
"The cousins are crazy for him, my son is crazy for him. They'd do anything he'd tell them. But he confessed out of illness, he's mentally sick. I don't believe that he would do something like this, but I know that he is sick," added the father.
He further noted that one of the minors arrested "takes pills too. He's a child who doesn't go to yeshiva because he has fears. I know each of these children closely. They are good kids who aren't capable of doing bad things. He (the main suspect) is psychologically sick, and he dragged them after him to it. He has an illness, everyone knows."
Reports Monday noted that some of the suspects have been sent for psychiatric observation.
"They took him to get information"
The father of the suspect stated that his son spent Shabbat (Saturday) last week with the main suspect and the other suspects, all of them family members, and stayed over with family where he was later arrested with the others.
He claimed that in the days around the murder, his son was at the yeshiva where he studies, and not in the Jerusalem area where the murder was perpetrated, adding "he has witnesses" to his being at the yeshiva.
"I got information on Sunday morning from my brother-in-law that my son was arrested. I was in shock," said the father. "Later on I thought (it was over) drugs, I searched the entire house. I didn't know what to think."
The father noted that his son has close contact with the cousins suspected of direct involvement in the crime, saying "they are his age, they had a bar mitzvah together. They're very very connected to this uncle who was accused (of the murder). They were at his place in (name of the town) for Shabbat and went from there to (the city where they were arrested)."
"The Shin Bet (Israel Security Agency) entered the home of my brother-in-law. To their surprise my son was also there. My son wasn't on the list (of suspects), they took him to get more information," related the father.
He reiterated his claims that his son was not involved, saying "he's only connected by family. I'm angry that they're holding him, not letting us meet him or speak to him. Just today (Monday) they let lawyers meet him. He's a gentle soul that didn't do anything bad and they're holding him in awful conditions."
"Hypocrisy and double standards"
The father condemned the murder of Abu Khder who, according to an initial pathologist's report issued from Palestinian sources, was burned alive, suffering from severe burns on 90% of his body. 
"We are very shocked by the murder of any person, it's forbidden to kill. There's no doubt that it's forbidden according to halakha (Jewish law). We certainly don't believe that things like this need to be done at all," said the father.
He went on to condemn the government for having a double standard towards Jewish and Arab crime, saying "the country is being run hypocritically and making a lot of noise. Someone who throws molotov cocktails is okay? Why does that pass in the media? People who throw rocks at cars, what is this hypocrisy?"
"A child was killed and it's extremely serious. But all those who say 'wow, how could they?', why don't they condemn rock throwers? That also is murder. We need to invest in the right places," claimed the father.
Criticizing the media, the father added "the writers are committing a crime by publishing people who aren't at all connected to this business, incriminating people and causing mortal danger, because we're talking about terrorists here. There will be acts of revenge against people who aren't connected, it's irreversible damage."
Indeed the families of the six suspects have requested a security detail to guard them against "revenge" attacks. The murder of Abu Khder triggered violent Arab riots throughout Israel, lending credence to the fear of attacks.
Speaking about the family of the suspects thought to be directly involved in the murder, the father said "the family is crushed. No one understands, it's a respectable family. There aren't pious people like them in our generation. The father of the (main) suspect is a righteous person. It's unbelievable that these people would do things like this."