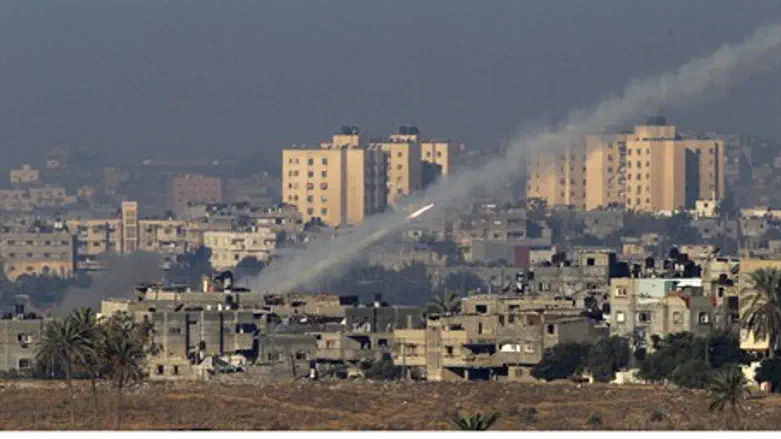 Rocket launch from Gaza (file)
Reuters
Terrorists in the Hamas stronghold of Gaza continue to launch rockets at civilian populations in southern Israel on Monday, after a 24-hour ultimatum issued by Israel last Thursday came and went unheeded, and Israel Air Force (IAF) airstrikes Sunday night merely elicited more threats.
Two rockets were launched early on Monday morning at the Eshkol Regional Council area; one of them, which was defined as a Kassam rocket by Channel 10, exploded in a local community lightly damaging a car. 
Shrapnel from the rocket lightly injured a soldier, leaving shrapnel shards in his back and legs, reports Yedioth Aharonoth. The soldier was evacuated to Soroka Medical Center in Be'er Sheva.
"Color Red" rocket warning sirens, which have become ubiquitous in the area lately, were sounded before the rockets struck.
The rockets are the latest in a recent flood of missile fire; the IDF announced on Sunday that a total of 110 rockets have hit Israel since last Wednesday, with another 40 rockets being fired from Gaza on Sunday.
Later on Monday morning, Gaza terrorists fired on IDF forces that were active near the security fence by Kibbutz Re'im. Apparently the terrorists opened fire with an RPG (rocket propelled grenade) meant for use against tanks; no damage or injuries were caused.
The rockets continued as a Grad rocket was fired at the southern city of Be'er Sheva, which was targeted by two rockets on Saturday. The rocket Monday was preceded by "Color Red" sirens, and fell in open territory causing no damage or injuries.
Another rocket fired at the Sedot Negev Regional Council area was shot down by the Iron Dome anti-missile defense system a short time later. A second rocket followed in quick succession, hitting the same Regional Council area; it landed in open ground and caused no damage.
Three more rockets were fired a short time later, hitting open territory in the Sha'ar Hanegev Regional Council area and causing no damage. They were followed by another two rockets that hit the Eshkol Regional Council area; reportedly no "Color Red" sirens were heard before the blasts, which caused no damage.
Shortly thereafter another rocket hit open ground in the Sha'ar Hanegev region.
A growing escalation since last Wednesday
In response to the endless rocket escalation, the IAF launched airstrikes against nine terror sites in Gaza on Sunday night, with Hamas reporting that seven of its terrorists were killed in the process and threatening to make Israel pay for the reaction. Earlier Sunday night, another IAF airstrike killed two terrorists from the Islamic Jihad group in Gaza.
At the start of the escalation on Thursday, after over 40 rockets were fired at Israel in just over a day, the IDF issued an ultimatum calling on Hamas to stop the rocket fire within 48 hours or face war.
That ultimatum deadline came and went, with at least 15 rockets fired on Israel in a 12-hour period on Saturday, including two at Be'er Sheva, and as noted the rocket fire has continued since then.
Despite the total collapse of security in the south and the constant threat of rockets on a large civilian population, Prime Minister Binyamin Netanyahu on Sunday indicated he would not order a wide-scale operation in Gaza for the time being.
"Experience has proved that at moments like this, we have to act responsibly and with a cool head and not with harsh words and impetuousness," Netanyahu said. "We will do everything in our power to restore peace and security to the south." 
Speaking to Arutz Sheva on Sunday, Deputy Education Minister Avi Wortzman (Jewish Home) dismissed the notion that "restraint is power," saying "restraint is a scandal and a disregard for citizens. It's that simple."
"One million citizens have become hostages of Hamas and the government responds weakly. What is happening here is unacceptable. Hamas must understand that it will not pay off for it to continue firing rockets," added Wortzman.