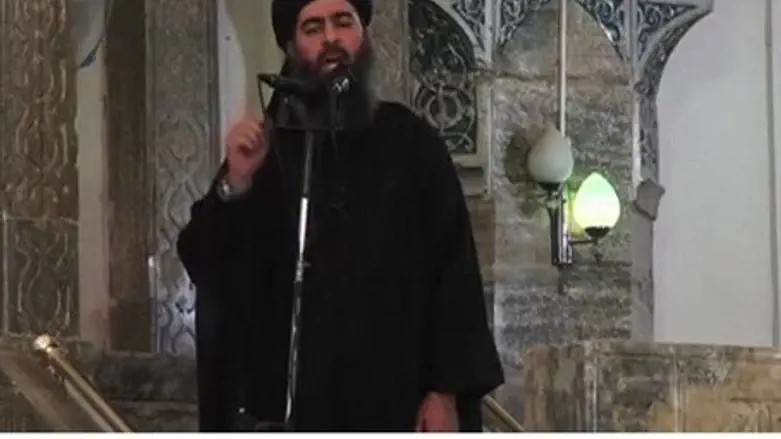 Abu Bakr al-Baghdadi makes his first appearan
Reuters
The elusive head of the Islamic State of Iraq and the Levant (ISIS) - which recently declared an "Islamic State" in regions under its control and called on Muslims throughout the world to accept him as their leader - has appeared in public for the first time.
Dressed entirely in black - a reference to his claims of direct descent from Mohammed, the founder of Islam - Abu Bakr al-Baghdadi delivered a sermon in the city of Mosul, which was recently captured from the Iraqi government by Sunni rebels led by his own forces. 
"The mujahedeen have been rewarded victory by God after years of jihad, and they were able to achieve their aim and hurried to announce the caliphate and choose the Imam", he said referring to himself, according to a translation by the Guardian.
"It is a burden to accept this responsibility to be in charge of you... I am not better than you or more virtuous than you. If you see me on the right path, help me. If you see me on the wrong path, advise me and halt me. And obey me as far as I obey God."
An unnamed senior Iraqi intelligence official told the paper that the man, who does bear a resemblance to the few previous pictures which exist of Baghadadi, is indeed the ISIS leader. 
Al-Baghdadi has avoided making public appearances, mindful of the fate of his predecessor and leader of the "Islamic State of Iraq", Abu Musab al-Zarqawi, who was killed by US forces in part after his penchant for public appearances helped intelligence forces track him down.
The ISIS leader himself - who has declared himself a "caliph", or Islamic leader, - has a $10 million bounty on his head.
Despite that, analysts say he had little choice but to make the public appearance. His declaration of a "caliphate" or Islamic state was criticized by many rivals, both for his haste in doing so and for disobeying Al Qaeda leader Ayman al-Zawahiri, who was opposed to the idea. Others criticized his reticence to appear before the people he was claiming to rule.
His appearance is being seen as a show of confidence and strength; indeed the fact that he was able to make such a public appearance at Mosul's Great Mosque, in front of scores of worshippers in what was once Iraq's second city, was an effective demonstration of how secure Islamist forces there feel despite the Iraqi government's promises of a counterattack.
As part of its consolidation of power in the area, ISIS members reportedly demolished at least 10 Shia Muslim shrines, which they consider to be forms of idolatry.
"He had declared himself caliph, he couldn't hide away. He had to make an appearance at some time," Middle East expert al-Tamimi  told the Guardian.