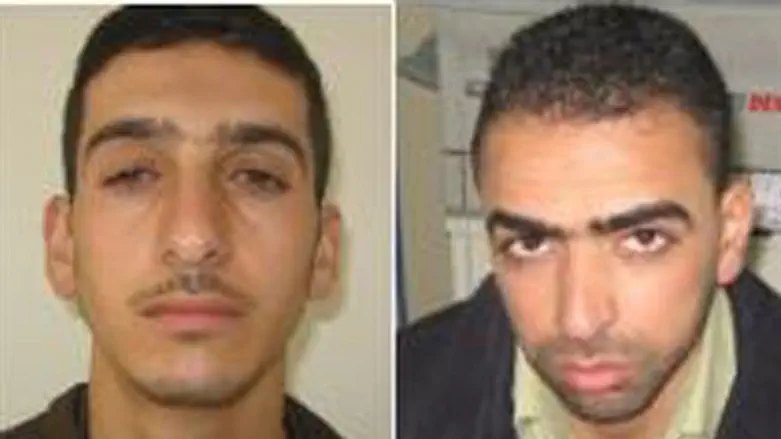 Marwan Kawasmeh (L), Amar Abu-Eisha
Israel Security Agency
In addition to the two Hamas terrorists identified by the IDF as being behind the murder of Naftali Frenkel, Eyal Yifrah and Gilad Sha'ar on June 12, another Hamas terrorist has been missing since the night of the abduction, Arab sources reported Friday. 
Sources in Hevron told Walla! that the third Hamas terrorist, Hussam Dufash of central Hevron, has been missing since the night of June 12 as well - implicating him in the teens' murder. 
According to the reports Dufash has a long record of terrorism too, having been jailed by Israel and being part of a family strongly identified with Hamas.
IDF forces have searched Dufash's home several times since the abduction, telling his family that he is wanted for investigation.
At least two of Dufash's family members have been involved in terror attacks and attempts in the past, the Arab sources told Walla!. In 2003 one of his family members, Jihad Dufash, was killed in a "work accident" at a Hamas explosives laboratory in the Hevron area. 
In the same explosion, another Hamas terrorist was killed: Hatam Kawasmeh - a close family member of Marwan Kawasmeh, thought to be one of the two Hamas terrorists who abducted and murdered the three teens.
Kawasmeh - who openly admits to working for Hamas, has been arrested at least five times and has helped the terror group recruit new members - was identified along with Amar Abu-Eisha, who has been arrested twice by Israel.
Parts of the homes of Kawasmeh and Abu-Eisha were demolished on Monday; the two terrorists remain at large.
Abu-Eisha's father Omar acknowledged that on the night of the abduction, he went with Amar to a cousin's wedding at 8 p.m, and around 10 p.m. he found Amar had disappeared, and has been missing since. The abduction occurred just after 10 p.m.
The mother of Abu-Eisha said denied her sons involvement, even while saying that "if he truly did it - I'll be proud of him till my final day."
She added "I raised my children on the knees of the (Islamic) religion, they are religious guys, honest and clean-handed, and their goal is to bring the victory of Islam."
Omar has been arrested numerous times for security offenses according to the IDF, and Amar's brother was killed while committing a terror attack in 2005 against an IDF patrol.