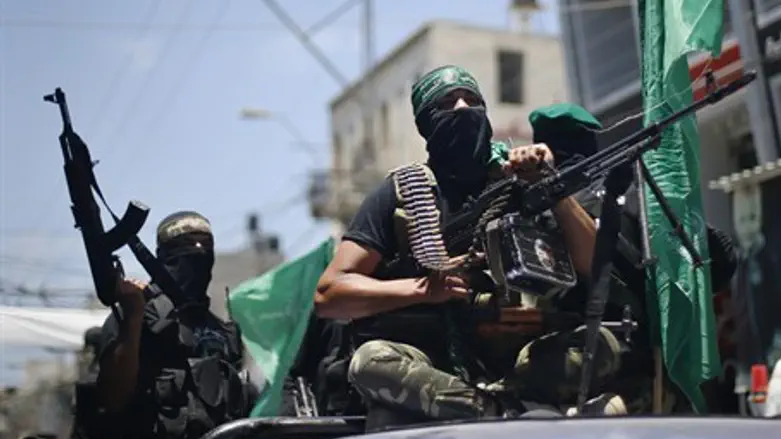 Hamas terrorists in Gaza (file)
Reuters
Hamas, the terrorist group believed to be behind the kidnap and murder of three Israeli teens nearly three weeks ago, has vowed that Israel "will pay" for the murder of an Arab teen in Jerusalem last night.
Mohammed Abu Khder, of Jerusalem's Beit Hanina neighborhood, went missing late Tuesday night. On the same night, witnesses said a black car had stopped next to a youth who was hitchhiking in the Arab neighborhood, and that he was forced inside. The car then took off, and some time later 16-year-old Abu Khder's family reported him missing, according to IDF Radio.
Not long after, on early Wednesday morning police discovered a badly burned body in the Jerusalem Forest area. Although police have yet to formally identify the body, Public Security Minister Yitzhak Aharonovich has confirmed that the incident in Beit Hanina and the body are linked.
The fact that the apparent kidnapping and murder occurred on the day of the funeral for Israeli teens Eyal Yifrah, Gilad Sha'ar and Naftali Frenkel - as well as the chilling parallels between the two murders - had led many to assume the murder was a "revenge attack" carried out by Jewish extremists.
Shortly after, riots broke out as Arab extremists clashed with police; disturbances are still ongoing.
Jerusalem Mayor Nir Barkat called the murder of the youth "a grave and barbaric act" and said that he "forcefully" condemns it.
"This is not our way of doing things and I trust the security forces to bring the guilty to trial," he said, apparently assuming that it was indeed a revenge attack. "I call on everyone to act with restraint, to put all kinds of violence beyond the pale and to take action to calm the spirits."
But police have since cautioned that the motive for the murder has not yet been determined, and urged "responsibility" in attributing responsibility.
"The circumstances of the event have not yet been established. All directions of investigation are being looked into," a police statement read. "Please exhibit responsibility and wait for official results and announcements by the Jerusalem District Spokesman."
Apart from a possible revenge attacks, other theories behind the murder include criminal activity and a possible "honor-killing". None of these reports have been confirmed, however.
Nevertheless, Hamas was quick to lay blame on Israel for the murder, warning it would make the Jewish state "pay the price."
"We send our message to the Zionist entity and its leaders, which hold direct responsibility (for the murder), that our people will not let this crime pass, nor all the killings and destruction by your settlers," the Islamist movement said. "You will pay the price for these crimes."
Earlier Wednesday, senior Palestinian Authority officials were also quick to blame Israel, including PA chief Mahmoud Abbas's official spokesman.