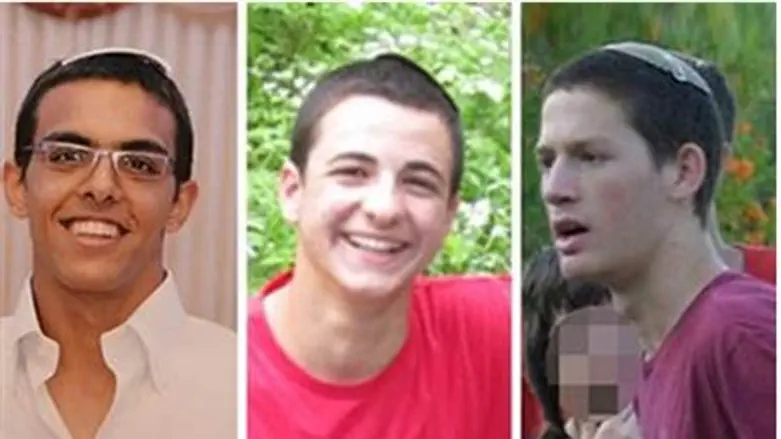 Murdered (L to R): Eyal Yifrah, Gilad Sha'ar,
courtesy of the families
The Walla news site has published a more complete version of the emergency police hotline recording of the distress call abducted youth Gilad Sha'ar made shortly before he was murdered.
In a part of the recording that was not made public until now, one of the abductors can be heard calling a third person and announcing in Arabic – "We've brought three!"
Walla reports that the gunshots that can be heard in the recording apparently killed at least some of the kidnapped teens on the spot. The abductors kept on driving after the shootings but changed direction and turned toward Halhoul when they became convinced that the Shin Bet was following them.
'Shabak leaked the tape'
The leak of the recording of the call has caused great anger within the police force, says the report.
Israeli media published the recording after it became common knowledge through social media, especially via a mysterious Whatsapp message which was quickly circulated to thousands of people before the tape was officially released by the Israel Security Agency, or Shabak - much to the anger of the police, who had wished to keep it under wraps.
The call, which took place at 10:25 p.m. on June 12, and was made by Gilad Sha'ar, lasted in total for 2:09 minutes - most of which is comprised of the police trying to resume contact after the caller is abruptly cut off.
After Gilad whispers "they've kidnapped me!" to the operator, the kidnappers can be heard shouting at the boys to get their heads down, with one of the terrorists shouting at his partner to grab the phone.
The most disturbing part of the recording comes immediately later: shots can be heard ringing out amid an apparent struggle, and the boys can be heard crying out in pain.
Investigators believe that was the moment the teens were shot dead, in the back seat of the kidnappers' car. Blood and spent bullet casings were discovered in the burned-out car found shortly after the kidnapping, according to Army Radio.
Although investigators believe they had planned to murder the teens anyway shortly afterwards, the terrorists apparently panicked after the call was made and decided to kill them there and then. According to pathologists' reports at least one of the teens put up a stiff struggle before being killed.
Tragically, the terrorists were given valuable time to make their escape - after burying their victims under rocks, trash and mud in a shallow mass-grave near Hevron - as police erroneously dismissed the phone call as the work of pranksters.
Several top police officials were subsequently dismissed from their posts for dereliction of duty.