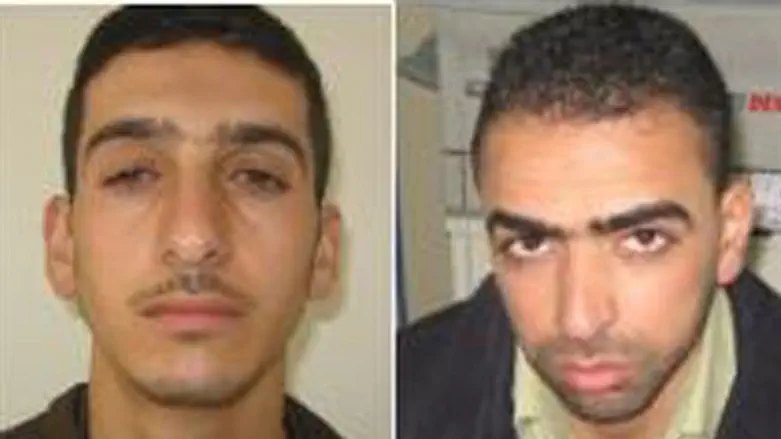 Marwan Kawasmeh (L), Amar Abu-Eisha
Israel Security Agency
The IDF demolished overnight Monday the homes of the two main suspects in the kidnapping and killing of three young Israelis, witnesses told AFP. It appears, however, that the explosions were only directed at parts of the homes, where the IDF suspected that explosives may be held.
The witnesses said the houses of Marwan Kawasmeh and Amar Abu-Eisha in Hevron were blown up, in what a human rights group said was the first punitive demolition since Israel halted the practice in 2005.
Kawasmeh and Abu-Eisha were identified by Israel last week as the two terrorists who kidnapped Eyal Yifrah, Gilad Sha'ar and Naftali Frenkel, whose bodies were discovered earlier on Monday.
Both Kawasmeh and Abu-Eisha have been arrested numerous times and are well known Hamas terrorists in the Hevron area.
The two terrorists remain at large but, according to media reports, security forces believe they likely could not have gotten far and could be located within days.
The explosions at their homes came as the High Court discusses the possible demolition of the home of another terrorist - the murderer of Commander Baruch Mizrahi, who was murdered by a terrorist on the eve of the Passover holiday.