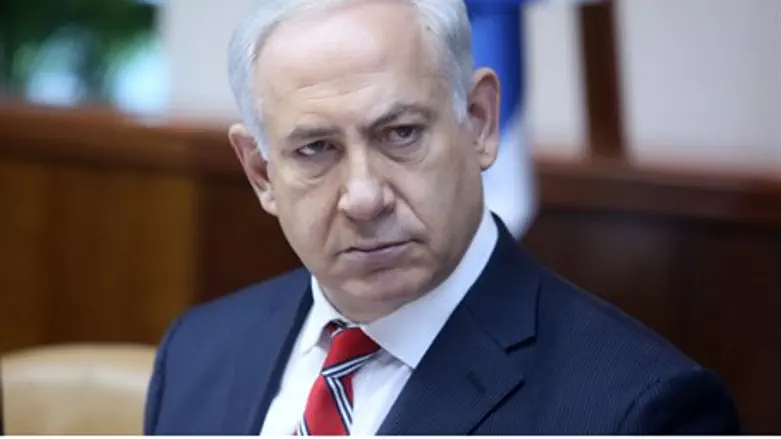 Prime Minister Binyamin Netanyahu
Flash 90
Prime Minister Binyamin Netanyahu released an official response to the murder of abducted Israeli teens Gilad Sha'ar (16), Naftali Frenkel (16), and Eyal Yifrah (19) on Monday, expressing grief and vowing revenge. 
"With a heavy heart, we have found tonight three bodies, and all of the information we have indicates that these are the bodies of the abductees - Eyal, Gilad, and Naftali," Netanyahu began. 
"They were murdered in cold blood by human animals," he said. "In the name of the entire Jewish people, I want to say to the dear families - mothers and fathers, grandmothers and grandfathers, sisters and brothers - our hearts are bleeding. We are crying with you." 
"We will bring the boys home to be buried in Israel," he continued.
"Revenge over the blood of a small child is not the devil's work, and neither is revenge for the blood of a teenager or young man - who was on his way to meet his parents - and whom was never seen again," he added. "Hamas is responsible. Hamas will pay." 
"May the boys' memories be for a blessing." 
Israeli President Shimon Peres also issued a response Monday night, expressing his solidarity and grief. 
"An entire nation bows its head in unbearable grief this evening," Peres stated. "I embrace and grasp the hands of the mothers and fathers of Naftali, Eyal, and Gilad, who devoted their lives to raising their children." 
"For 18 days, the people prayed in unison that we would find these boys alive and healthy," Peres continued.  "Now, upon receiving the news, all of Israel mourns their untimely deaths." 
"As we mourn, we must punish these terrorist criminals," he added.