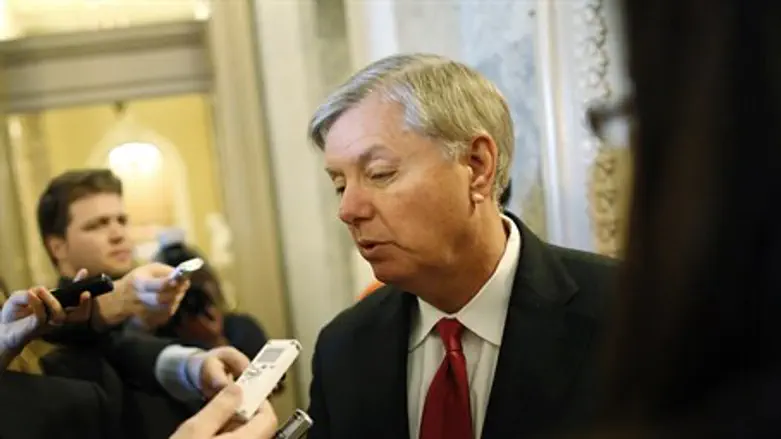 U.S. Senator Lindsey Graham
Reuters
The Palestinian Authority (PA) can expect to lose 15% of the aid it receives from the United States, according to Maariv-NRG. Twin bills being advanced in the Senate and House will slash $65 million from the $440 million annual assistance to the PA, starting in September.
The bills, which are expected to enjoy an automatic bipartisan majority, are sponsored by Sen. Lindsey Graham and Rep. Doug Collins, both Republicans.
The bills call for the PA budget to be cut, "dollar for dollar," by the amount that the PA pays prisoners who were locked up for terrorist offenses."
The news site said that the bills would be voted upon along with the federal budget, after mid-term elections, but will apply retroactively from September.
Economics Minister and Jewish Home leader Naftali Bennett announced last week that he intends to lead an effort to stop Palestinian Authority Chairman Mahmoud Abbas (Abu Mazen) from continuing the policy of payment of generous monthly salaries to convicted terrorists jailed in Israeli prisons.
"Did you murder Jews? Have you abducted children? Get up to 12,000 shekels a month from Abu Mazen!," wrote Bennett sarcastically on his Facebook page. "Meet Abu Mazen's 'preferred employment' track: murderers, terrorists and child abductors. We have preferred status forgas station attendants, Abu Mazen gives it to those who pour fuel on the fires of death and destruction."
According to a report presented by Bennett, a terrorist serving 5-10 years makes 4,000 shekels a month; a terrorist serving 10-15 years makes 6,000 shekels, a terrorist serving 25-30 years makes 10,000 shekels, and terrorists who are serving over 30 years make 12,000 shekels a month.
"In addition, every Palestinian prisoner in Israel receives 400 shekels for private expenses, twice a year," wrote Bennett. "There is also a bonus for married terrorists and a special addition for children. In Palestinian terms, these are huge salaries."
"About 4,000 freed prisoners continued to receive salaries after their release," he added. "The 'preferred employment' also has a pension. And so, Ziyad Awad, the murderer of Baruch Mizrahi z"l who was released in the Shalit deal, received a salary from the Palestinian Authority during his first imprisonment, was released and received a freed terrorist's salary, and now his conditions will again be improved in Abu Mazen's 'preferred employment' scheme – after all, he murdered a Jew and has returned to prison. Amazing."