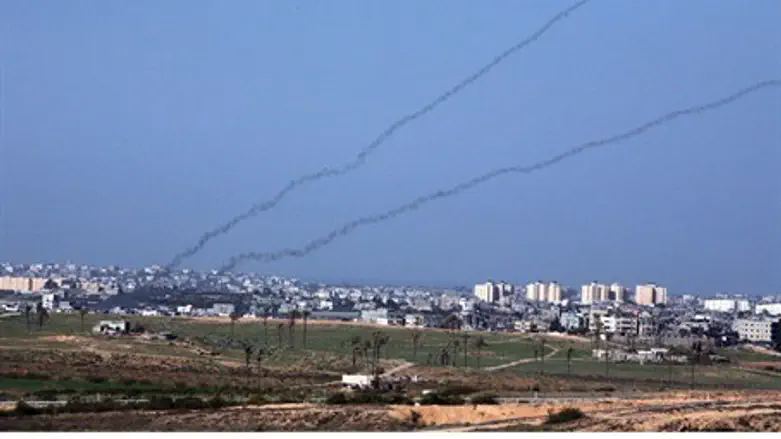 Rocket trails streaking out of Gaza (file)
Flash 90
A total of 15 rockets were fired at Israel by Gaza terrorists overnight and on Monday morning, marking the latest recent missile barrage since the abduction of three teens by Hamas terrorists on June 12.
In the early morning eight rockets fell in uninhabited areas in the Eshkol Regional Council area; no injuries or damage was caused by the blasts. That followed at least two rockets which were fired on the Eshkol region overnight.
Before the rockets struck, "Color Red" missile warning sirens were sounded in the Eshkol Regional Council area.
Minutes later the "Color Red" sirens sounded again, as two more rockets struck the area, again landing in open area and causing no injuries or damage.
Later in the morning, two more rockets were fired into the Sedot Negev Regional Council area.
Two homes in the area were lightly damaged by the shrapnel of one of the rockets; two local residents were treated on the scene for anxiety and shock after the blast.
Eshkol Regional Council head Chaim Yelin spoke to Channel 2 on Monday morning about the rockets, saying "Israel's deterrence has completely dissipated."
"The feeling is that we are going back several years. We're going back to experience the days between Operation Cast Lead and Operation Pillar of Defense," said Yelin, noting a period of intense rocket fire.
"Residents of the Gaza Belt area are standing up to this challenge because we have to continue our lives. We've been living like this for 13 years already, so it isn't something unknown," added the regional leader. 
Hours before the recent attack, during the course of Sunday night, three rockets were fired into the Eshkol Regional Council area, exploding in open territory and not causing any damage.
Gaza terrorists fired six rockets towards the town of Netivot earlier on Sunday, with two of the rockets being intercepted by Iron Dome missile defense batteries stationed near the town. The four others fell in uninhabited and empty areas and did not cause any injuries or damage.
In response to the Sunday escalation, the IAF conducted a drone airstrike on a terror cell, killing a terrorist right before he launched more missiles.
One of the four rockets fired in on Saturday night directly hit the "Denber" plastics factory in Sderot, burning it down completely and setting an adjacent paint factory on fire as well.
Three injuries were reported in the incident, with one man in his fifties suffering injuries in his limbs from the shock wave of the missile blast and ensuing explosions emanating from the plant. Two others were also evacuated to a hospital for treatment of light burns.
In retaliation, the IAF struck nine terrorist targets in Gaza on Saturday night, including a weapons manufacturing site in northern Gaza, a weapons manufacturing site and a terrorist center in central Gaza, and three concealed rocket launchers and three terrorist centers in southern Gaza.