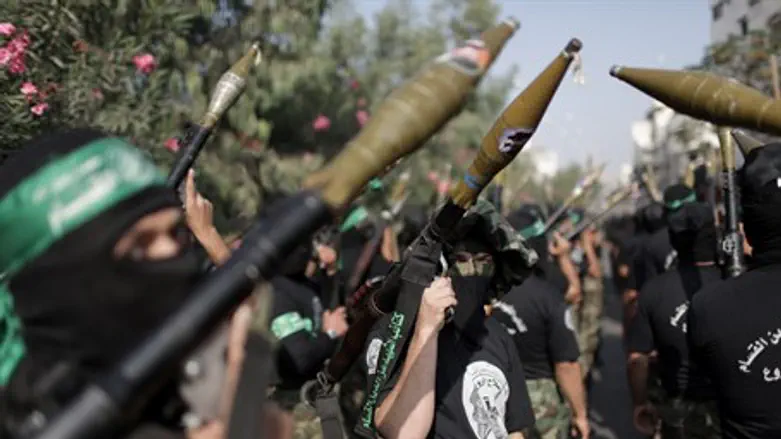 Hamas terrorists (illustration)
Flash 90
An explosive was detonated on Friday morning on the security barrier right by Kibbutz Nirim, located in the Eshkol Regional Council just outside of the Hamas-enclave of Gaza.
The blast went off as an IDF patrol passed through the area, in what apparently was a targeted attack. IDF reports that no soldiers were injured, although light damage apparently was inflicted on an army vehicle.
IDF tanks began returning fire at suspicious points on the Gaza side of the security border reports Channel 10. The IDF is currently searching the area for suspects who set off the explosive.
The report adds that Arabic news sources claimed that at least four Arab terrorists in Gaza were injured in the exchange of fire after the explosion. One of the suspects was critically injured according to the reports.
The IDF released a statement, noting the explosion targeting the soldiers and saying "the force responded with tank fire towards lookout posts used to guide the attack against the forces."
 A spokesman for the Hamas health services in Gaza, Ashraf al-Qudra, told AFP that a total of five were wounded, and that the tanks targeted "two mosque minarets" east of Khan Yunis in southern Gaza.
The Arab Ma'an News Agency also reported the claim, naming the mosques as Hoda and Taqwa, and citing Arab sources saying nearby homes also were damaged.
Terrorists in Gaza have stepped up their attacks on Israel since Hamas terrorists kidnapped three Israeli teens two weeks ago.
Four rockets were fired from Gaza on Tuesday, the fourth of which landed on a town in the Sedot Negev Regional Council area of the Gaza Envelope. No damage was reported from the attack.
The first two of the four rockets were shot down by the Iron Dome anti-missile defense system, while the third misfired and landed in Gaza, killing a three-year-old Arab girl and wounding three.
In response to the latest rocket barrage, the IAF conducted airstrikes on Tuesday night, targeting five concealed rocket launchers in northern Gaza, a terrorist center in central Gaza and a weapons manufacturing site in southern Gaza.
Hamas threatened on Wednesday that if Israel attacks Gaza, the terror group will attack Haifa. On Tuesday, the day before, senior Hamas leader Mahmoud Al-Zahar declared that Hamas has rockets that can hit any city in Israel.