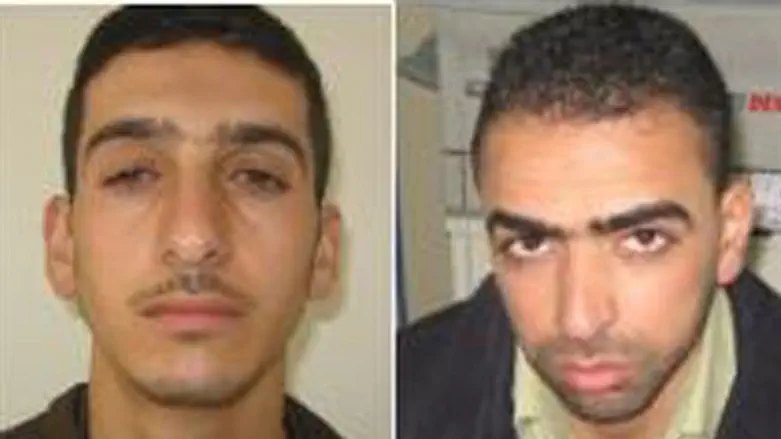 Marwan Kawasmeh (L), Amar Abu-Eisha
Israel Security Agency
The father of one of the two Hamas terrorists named by the IDF on Thursday as being behind the abduction of three Israeli teens two weeks ago lost no time denying his son's involvement.
The two terrorists are Marwan Kawasmeh (29) and Amar Abu-Eisha (33), both of whom have been arrested numerous times and are well known Hamas terrorists in the Hevron area. They are being tracked down by the IDF.
However, Omar Abu-Eisha, the father of Amar, claimed Thursday night to AFP that his son was not involved - he added that he had seen no trace of Amar since the night of June 12, when the boys were abducted.
It should be noted that Omar himself has been arrested numerous times for security offenses according to the IDF, and Amar's brother was killed while committing a terror attack in 2005 against an IDF patrol.
Reenacting the night of the abduction, Omar told i24news "on Thursday, me and my son went to a wedding at 8 p.m. It was a wedding of a cousin."
"Around 10 p.m., I asked 'where's Amar,' and they told me he went home. Then we went to sleep. On Friday morning, it was impossible to find him...we don't know what happened to him," stated Omar.
It should be noted that a motorist saw Eyal Yifrah (19), Naftali Frenkel (16) and Gilad Sha'ar (16) at a hitchhiking stop at 10:05 p.m. that night, and at 10:25 p.m. police received an emergency call from one of the teens whispering "we've been abducted! We are being kidnapped." The call was ignored by police who thought it was a prank call, a move that has raised a public outcry.
Given the two reported times, Amar has been missing since before the time of the kidnapping, which occurred just after 10 p.m.
Nevertheless, Omar insisted "the story of the abduction isn't logical. I don't believe all that."
"Whether he was arrested by soldiers or became a tortured martyr, it's the fault of the Israelis in any case. Now it's in G-d's hands, I can only pray in the meantime," said the terrorist's father.
Prime Minister Binyamin Netanyahu responded to the announced identities on Thursday, saying "we said all along that it was Hamas that was behind the kidnappings, and today our security officials released the names of some of the terrorists who planned and executed the kidnappings. There is no question about their identity or affiliation."
Netanyahu went on to call on Palestinian Authority (PA) Chairman Mahmoud Abbas to end his unity deal with Hamas.