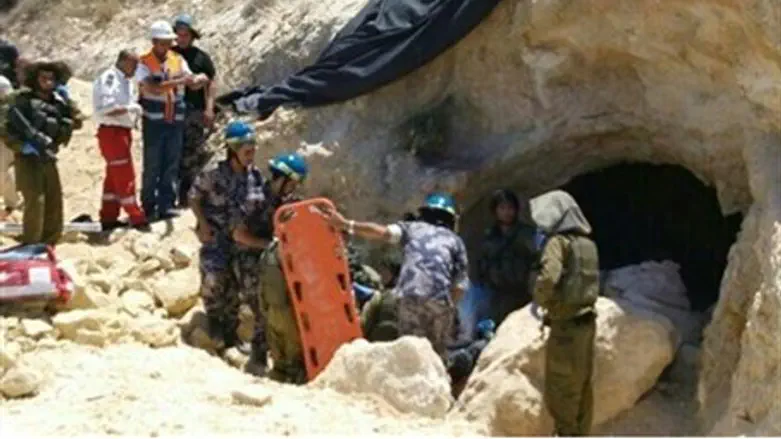 Rescue efforts at the cave.
Hatzala Yosh Rescue Service
Archaeologist Yuval Peleg, 45, was killed Thursday morning when a cave collapsed at Sebastia in western Samaria. Peleg was Deputy Staff Officer for Archaeology in the IDF Civil Administration.
A Magen David Adom team that was alerted to the site of the cave-in attempted resuscitation but failed to revive Peleg.
Yaniv Shaar, an MDA paramedic, said that he saw "a man aged about 46 trapped under the rocks that had fallen from the side of the mountain. Civilians who were at the spot managed to move some of the rocks and began resuscitating him. Assisted by a military medical force that arrived on the scene, we carried out advanced resuscitation operations, with his lower body still trapped, but unfortunately his wounds were very severe and we had to determine his death at the scene."
The cave that collapsed is a site of archaeological excavation, not far from the ruins of Homesh, a community destroyed in the 2005 Disengagement – an ill-fated attempt by the Israeli government to win peace by unilaterally withdrawing from Gaza and parts of Samaria.