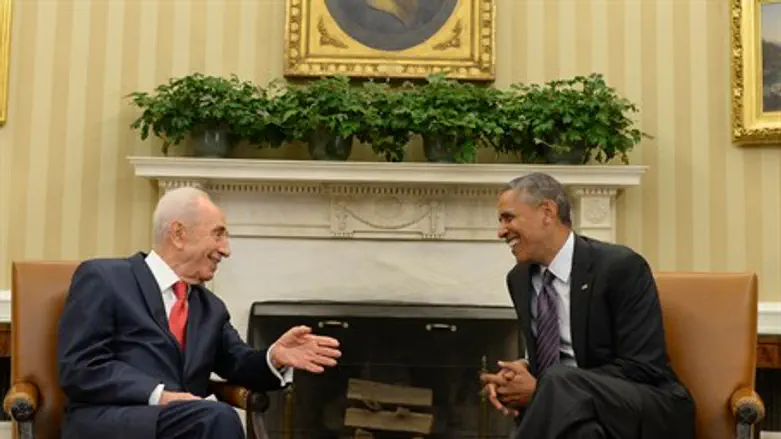 Peres and Obama at athe White House
Kobi Gideon
President Shimon Peres met on Wednesday with U.S. President Barack Obama at the White House, and asked Obama to release Jonathan Pollard on humanitarian grounds.
Peres, making his final official visit to Washington as Israel's president, told Obama that all of Israel was united around the request to free Pollard, adding that because of Pollard's deteriorating health, he should be released for humanitarian reasons.
The Office of the President has submitted an official request to the White House to advance Pollard's release.
Jonathan Pollard has recently been the subject of a high-profile campaign for his release. He is now in his 29th year of incarceration in a U.S. jail for passing classified security-related information from America to Israel. He was arrested by FBI agents in 1985 and has been held ever since, including eight years in solitary confinement.
Outrage simmered over a reported deal to release Pollard before the Passover holiday in April in exchange for hundreds of Israeli-held jailed Arab terrorists; the deal never materialized. His prison conditions have been described as "horrific" and he is suffering from ailing health.
Wednesday's meeting between Peres and Obama also dealt with the three kidnapped Israeli teenagers, and Obama told Peres, "Our hearts are with the families of the kidnapped boys and with the State of Israel. From the moment the kidnapping took place, the United States has been coordinating with Israel. The United States will continue to help and do what it can to bring the kidnapped boys home."
Peres briefed Obama about the IDF's search operation for the kidnapped boys, saying Israel will not let up until they return home.
The meeting, which was attended by Vice President Joe Biden and National Security Adviser Susan Rice, also dealt with the Iranian issue, the goings on in Iraq and the peace process between Israel and the Palestinian Authority (PA).
Peres said that President Obama reiterated his commitment to Israel and said that "the United States is committed to Israel's security, mutual relations and the security and intelligence cooperation with Israel will always remain a central component of U.S. policy in the region."
On the peace process, President Peres said that "everything must be done to return to the path of dialogue" and stressed that PA Chairman Mahmoud Abbas is a partner for peace while Hamas is a terrorist organization that tries to attack Israel.
"You cannot put water and fire in the same glass," Peres stressed, adding that "Abbas's brave words in Saudi Arabia against terrorism and against the kidnappers should be appreciated. Mahmoud Abbas risked his life with this statement, and we must strengthen the moderate forces while fighting a bitter war against the terror organizations led by Hamas."