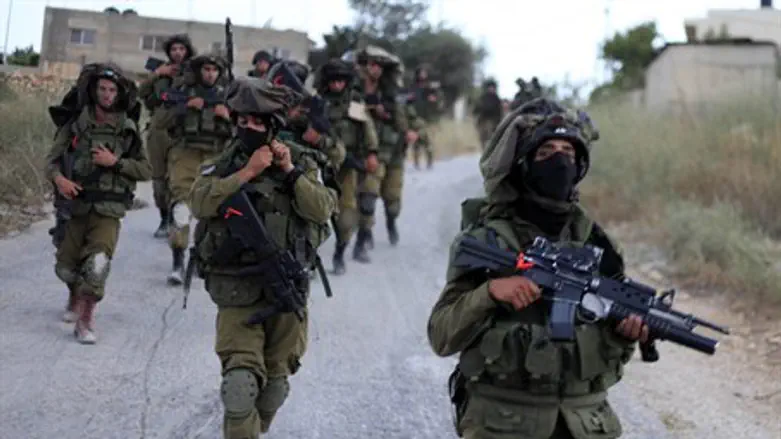 IDF soldiers in Operation Brother's Keeper
Flash 90
Operation Brother's Keeper will continue at full force, the Security Cabinet declared Wednesday night, less than 24 hours after it announced that the search for three yeshiva students kidnapped by Hamas would be scaled down out of concerns for both Ramadan and Israel's international standing. 
The decision, a stunning about-face, surfaces just hours after the mothers of kidnapped teens Naftali Frenkel (16), Gilad Sha'ar (16), and Eyal Yifrah (19) spoke poignantly at the Knesset. All three begged the Israeli government not to stop the rescue mission and urging them to continue the wide-scale crackdown on Hamas. 
While the decision has not been formally linked to the speech, it is worth noting that the content of Bat Galim Sha'ar's speech related directly to the steps taken by the Cabinet in Wednesday night's hearing. 
"We need to look beyond our own pain, to let go of that which burns within us; we are required to see before our eyes the people of Israel, the IDF, the security forces, the government of Israel standing up against its enemies, and the hidden mission God has brought before us," she said. "I have full confidence in the system, but only if I know that Israel is doing everything to find my son, as well as Naftali and Eyal."
"If the Prime Minister knows the identity of the kidnappers, we must act in any way possible to pressure them to bring the boys home alive: to stop funds, to worsen conditions for prisoners, to put pressure on the Palestinian Authority (PA)," she urged. "Hamas will then know that it is not worth it to kidnap Jewish children. "
No more "terror salaries"
The Security Cabinet also decided to stop the transfer of "terror money" to Palestinian Arab terrorists in Israeli prisons Wednesday, a dramatic move likely to place even more pressure on Hamas. 
Earlier Wednesday, Jewish Home Chairman Naftali Bennett vowed to lead the Cabinet in this direction, promising to stop the practice of "terror salaries" paid out to convicted murderers provided by the Palestinian Authority (PA).  
"Did you murder Jews? Have you abducted children? Get up to 12,000 shekels a month from Abu Mazen!," wrote Bennett sarcastically on his Facebook page. "Meet Abu Mazen's 'preferred employment' track: murderers, terrorists and child abductors. We have preferred status for gas station attendants, Abu Mazen gives it to those who pour fuel on the fires of death and destruction."
According to a report presented by Bennett, a terrorist serving 5-10 years makes 4,000 shekels a month; a terrorist serving 10-15 years makes 6,000 shekels, a terrorist serving 25-30 years makes 10,000 shekels, and terrorists who are serving over 30 years make 12,000 shekels a month.
"In addition, every Palestinian prisoner in Israel receives 400 shekels for private expenses, twice a year," wrote Bennett. "There is also a bonus for married terrorists and a special addition for children. In Palestinian terms, these are huge salaries."
The PA has long used foreign aid money to fund these immense sums, specifically from the US and European Union (EU).
Just this month, the PA attempted to keep this money flowing into terrorists' coffers through a naming scheme, slyly transferring the Ministry of Prisoners to the "Authority of Prisoners" now under the direct control of the Palestine Liberation Organization (PLO), the terror organization behind Fatah. 
Last-minute reversal
On Tuesday, the Security Cabinet decided to scale down the IDF operations against Hamas and focus on locating the teens, concentrating on arrests that would aid in gathering intel about the three. 
The decision, which was initially denied by Defense Minister Moshe Ya'alon, allegedly was to fend off international criticism over the IDF crackdown on Hamas over the abduction, as well as concerns about the upcoming Muslim holiday of Ramadan. 
The announcement surfaced hours after the United Nations Human Rights Council (UNHRC) publicly assailed Israel for over 90 minutes during a session in Geneva, just before Rachel Frenkel - Naftali's mother - was about to speak. 
The Israeli government also reached a deal with Palestinian Arab hunger strikers shortly after the announcement was made, allegedly after holding talks with the terrorists and with Ramadan in mind. The full details of the deal will be released later, officials said, once the strikers are released from hospitals where they are being treated.