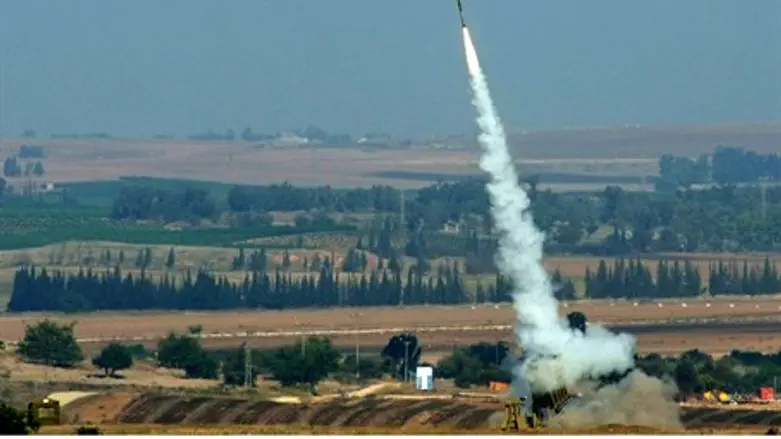 Israel's Iron Dome in action (file)
Flash 90
Two rockets were fired back-to-back by terrorists in Gaza on Tuesday evening, only to be shot down by the Iron Dome anti-missile defense system. A later rocket landed in a local community, but did not cause any damage.
"Color Red" missile warning sirens were sounded twice in the Ashkelon Coast Regional Council after the rockets were fired within minutes of each other.
Both missiles were eliminated by Iron Dome, reports Yedioth Aharonoth, noting that a third rocket firing attempt from Gaza apparently failed.
Shards from the two rockets that were shot down fell on several communities in the region, but no injuries or damage has been reported.
Another rocket was fired from Gaza less than an hour after the three rockets, with "Color Red" sirens being sounded in several communities in the Sedot Negev Regional Council area to the west of Gaza.
The rocket fell in one of the Council's communities, but no injuries or damage were reported.
Over 20 rockets have been fired at Israel since Operation Brother's Keeper began two weeks ago to rescue the three Israeli teens kidnapped by Hamas terrorists.
Additionally, Walla! referenced Arab media sources reporting mortar fire being launched from Gaza towards the Erez Border Crossing. IDF sources said the incident is being investigated; no damage or injuries were reported.
Evidence that terrorists in the Hamas-enclave of Gaza have stepped up their rocket activity during the operation was seen again on Saturday, when terrorists fired a rocket sparking an IAF airstrike on terror sites in response.
After Iron Dome shot down a rocket last Friday, another terrorist rocket was fired but fell short of its mark, landing in Gaza.
Last Thursday night, Israeli aircraft targeted several terrorist-related sites in Gaza, hours after Iron Dome shot down a rocket  as it made its way towards the coastal city of Ashkelon.
The IDF placed Iron Dome anti-missile defense units on the coastal region near Ashdod and Tel Aviv last Wednesday, in anticipation that terror activity from Gaza may flare up soon in order to support the Hamas kidnappers of the three abducted teens, and in response to the IDF's ongoing crackdown on Hamas in Judea and Samaria.
Deputy Defense Minister Danny Danon (Likud) called on Sunday to cut off all Israeli-provided electricity to Gaza and the Palestinian Authority (PA), saying a wider-scale operation was justified by the kidnapping.
However, the Security Cabinet decided on Tuesday to reduce the IDF operation against Hamas's terrorism infrastructure in Judea and Samaria, fearing international criticism and heightened violence during Ramadan starting this Saturday. It should be noted that Hamas terrorists kidnapped the three Israeli teens two weeks ago.